15-Day Spain and Morocco Tour Package w/ Private Airport Transfers
Product Code: 2554-50584
Madrid to Madrid -- Hotel Upgrade Available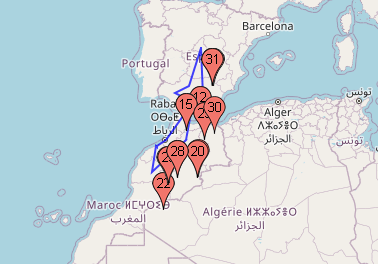 Highlights
• Explore the historic cities of Andalucia
• Travel to Morocco's Imperial Cities
• Explore the Generallife Gardens in Granada
Quality:

Value

Travel with professional guides, enjoy more time at attractions and/or stay at comfortable accommodations.
Pick-up Details / Transfers
A single private transfer from Madrid-Barajas International Airport (MAD) is included in your package. Your driver will be waiting in arrivals hall holding a sign with your name on it. Airport drop-off is also included. Upon special request, private transfers can also be arranged from train stations and/or hotels in the city center.
Package Includes
Private airport transfers.
Guided tours of Madrid, Cordoba, Seville, Granada, Toledo, Fez, Meknes, Marrakesh, Casablanca, Rabat and Tangier.
Professional guide.
Travel in air-conditioned deluxe motorcoach.
14-night hotel accommodations.
14 breakfasts, 11 dinners.
Package Excludes
Lunch.
Tips and gratuities.
Alhambra Palace interior tour.
Personal expenses.
Optional activity costs.
Passport details are required at least 72 hours in advance to the tour's departure.
You must pass through customs control with your own luggage.
Only one piece of luggage per person is allowed. Passengers have to go through customs control with their own luggage.
This tour might be a combination of different programs. If applies there might be a change in the tour escort and passengers between the programs.
In the event that the panoramic tour of Madrid is not operated for technical reasons will be replaced by the Madrid Hop-on Hop-off Bus 1 day instead.
During stay in Madrid tour escort service is not available.
This tour/activity is overseen by a select local operator in the region. Upon booking your tour or activity and after receiving confirmation, you will be issued an e-ticket detailing the local operator's name and contact information. If you require assistance finding a specific tour, please contact us for more information.
If any of the attractions are closed due to Covid-19, the guide will arrange the itinerary based on the actual situation on the tour date. Please understand. Thanks.
Pricing Info
Your reservation is always subject to confirmation by email, normally within one to two business days.
* Adult: 8 and older.
* Child: 4-7 years of age.
* Children under 4 years old, free of charge with no seat occupancy in the bus and sharing twin room with 2 adults (one child per room maximum).
* Prices for Single Occupancy apply when one person stays in one standard hotel room.
* Prices for Double/Triple Occupancy apply when two/three people stay in one standard hotel room respectively.
* Triple price does not guarantee a third bed in the room since each room is equipped with two beds. Please check the availability at the time of check-in.
* Prices may be higher than usual during the holidays and select weekends. So it's possible to make up discrepancy, Please contact us to get the correct price.
* Tour prices are based on EUR and are converted into USD. Prices will change day to day, due to the currency exchange rates. Tours booked and paid for will be charged at the current rate at which the tour price is shown. We will not refund any price differences, should prices drop for the tour. Tours will be subject to Cancellation Fees, should any changes be made for a reservation.
*The final tour rates already include possible booking fee, handling fee, and exchange rate loss.
Reservation Info
1.Immediately after submitting your reservation you will receive a Receipt of Reservation via email.

2. Within one to two business days of submitting your reservation you will receive a confirmation email from us. If you need to book an airline ticket, we recommend that you do so after you receive a confirmation of your tour reservation from us.

3. An E-Ticket will be sent to you via email as soon as details of your reservation are confirmed or your supporting information is received by us. We will provide you with all detailed information about your tour on the E-Ticket. Contact information for local tour provider will be included on E-Ticket for your convenience or re-confirmation purpose if re-confirmation is required.

4. Simply print your E-Ticket and present it with your valid photo ID on the day of your activity to your tour guide. Please remember E-Ticket is your proof of purchase.
Terms and Conditions
- Your purchase does not guarantee confirmation. Your purchase will initiate a reservation process. We will confirm with you via email within one to two business days.

- Prices may vary due to availability. We reserve the right to make price adjustment without prior notice.

- Local tour provider reserves the right to make modifications to tour arrangements including order of tour activities, hotel and its location if deemed necessary.
Edit Photo Title & Description
Loading……
We found 0 results matching your search
Questions previously answered may have different answers due to many reasons: season (date and year of travel), rates, availability, etc. Please check the Rewards4Fun Program FAQ for more information.
Cant find your answer? Ask us your question and we will respond within the next 24 hours.
Ask Us
14
Why Book with Tours4fun?
Best Price Guaranteed
Hand-picked Tours & Activities
24/7 Customer Support
Questions? 1-866-933-7368