16-Day Western, Central and Eastern Europe Tour from Paris w/ Airport Shuttle Service
Product Code: 56-60931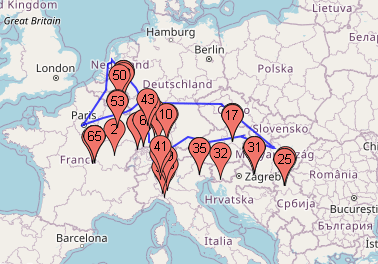 Highlights
• See the Royal Palace and the National Monument and more in Amsterdam
• Visit a wooden shoe workshop in Zaanse Schans
• Tour the romantic Paris
• Spend an afternoon in the luxurious Palace of Versailles
• Shop in Die Zeil in Frankfurt
• Take a walking tour of Prague
• Overnight in Bratislava
• Take an opcional Danube cruise while in Budapest
• See the major highlights of Vienna
• Visit the charming Mondsee, home to the medieval Mondsee Abbey
• See the Lion Monument in Lucerne
• See the Rhine Falls, the most majestic waterfall in Switzerland
• Enjoy a lake-side lunch in Lake Titisee
• Enter the enchanting Black Forest
Experience:

UNESCO, Cultural, Historical

Visit locations designated as World Heritage Sites by the United Nations; Learn about local culture with in-depth tours and activities; Encounter rich historical landmarks with expert guides
Tour Type:

Escorted

Tour director/guided escort is available from the beginning to the end of the vacation
Group Type:

Standard group

Tour with fellow travelers from all over the world
Activity Level:

Easy

Perfect for any fitness level
Quality:

Budget

The most affordable tour service and/or accommodation with fast-paced itineraries. Eg.Budget hotels, certificated guide, about 10 year safe driving experience driver. Price is about $80.00-$150.00 per day per person.
Accessibility:

Not accessible

Tour does not have wheelchair accessible vehicles/attractions or allow service dogs
Package Includes
Complimentary airport pick-up and drop-off
15-night hotel accommodations
Breakfast (coffee or tea, juice and bread)
Ground transportation in air-conditioned motorcoach
Professional tour guide
Package Excludes
Mandatory Service Fee: EUR 7.00 per day, per person, payable to the guide
Paris city tax and overnight tax of EUR 15 per person, per day
Prague entrance tax: EUR 5.00/person
Vienna entrance tax: EUR 5.00/person
Airfare
All personal expenses and additional hotel services
Lunch and dinner
Optional tours (prices and availability subject to change):
You must provide flight details at least 15 days before tour departure date to guarantee airport pick-up and drop-off. We will not be able to arrange airport transfers to those providing flight arrival details any closer to 15 days before tour departure date, and no refund will be given for this service.
There might be some adjustment on tour per the actual situation, due to the COVID-19, please understand
Airport transfers can be arranged between 7:00am and 10:00pm at the Charles de Gaulle and Paris Orly International Airports. Out of this time, we will have an extra charge of EUR 18.00/per person per way, based on minimum 2 Pax. We will take 4 hours before the flight departure times of the Airport Transfer arrangement. If your flight departure time is earlier than 11:00am, extra charges will apply since the driver need to pick you up before 7:00am. This service is only purpose for the convenience, you can also make it or by your own arrangement.
Earliest hotel check-in is 3:00pm.
The driver will wait up to, but no longer than, 90 minutes from the scheduled arrival of your flight. If you are held up in customs or your flight is delayed longer than 90 minutes after anticipated arrival time, you must make your own way to the hotel on Day 1. Tours4Fun does not reimburse taxi fare or offer partial refunds for those unable to meet the driver in the arrivals hall within the specified time frame.
If a visa support letter has already been submitted, an additional charge of 85 Euros will be assessed for any cancellation unless the customer can provide a copy of the embassy's rejection letter.
Depending on your arrival time, your hotel room may not be available until the afternoon. Most hotels allow check-in between 1:00pm-3:00pm, however some charge a fee for early check-in. Please check at the hotel desk to see if you may store your luggage at the hotel if you wish to explore the city on your own before check-in.
Please Note:
1. Guests are not allowed to use a CITY PASS and admission ticket purchased by themselves to join the sightseeing attractions included in this tour.
2. Guests who do use a CITY PASS or admission ticket purchased by themselves, will not be offered the transportation service for that day, and will possible need to pay a penalty fee. Please consult your tour guide for details.
This tour/activity is overseen by a select local operator in the region. Upon booking your tour or activity and after receiving confirmation, you will be issued an e-ticket detailing the local operator's name and contact information. If you require assistance finding a specific tour, please contact us for more information.
If any of the attractions are closed due to Covid-19, the guide will arrange the itinerary based on the actual situation on the tour date. Please understand. Thanks.
Pricing Info
Your reservation is always subject to confirmation by email, normally within one to two business days.
* Adult: 12 and older
* Child: 2-11 years of age
* Children younger than 2 years of age travel for free, provided they do not occupy a seat on the bus, or a bed in the room.
* Price for Single Occupancy applies when one person stays in one standard hotel room.
* Price for Double Occupancy applies when two people stay in one standard hotel room.
* Tour prices are based on Euros (EUR) and converted into US dollars (USD). Constant fluctuations in the exchange rate cause prices to change on a regular basis. You will be charged the price based on the applicable exchange rate at the time of payment. All transactions are final. We do not offer discounts or compensation to those citing lower prices at a later date. Bookings will be subject to penalties when modified or cancelled.
*The final tour rates already include possible booking fee, handling fee, and exchange rate loss.
Reservation Info
1.Immediately after submitting your reservation you will receive a Receipt of Reservation via email.

2. Within one to two business days of submitting your reservation you will receive a confirmation email from us. If you need to book an airline ticket, we recommend that you do so after you receive a confirmation of your tour reservation from us.

3. An E-Ticket will be sent to you via email as soon as details of your reservation are confirmed or your supporting information is received by us. We will provide you with all detailed information about your tour on the E-Ticket. Contact information for local tour provider will be included on E-Ticket for your convenience or re-confirmation purpose if re-confirmation is required.

4. Simply print your E-Ticket and present it with your valid photo ID on the day of your activity to your tour guide. Please remember E-Ticket is your proof of purchase.
Terms and Conditions
- Your purchase does not guarantee confirmation. Your purchase will initiate a reservation process. We will confirm with you via email within one to two business days.

- Prices may vary due to availability. We reserve the right to make price adjustment without prior notice.

- Local tour provider reserves the right to make modifications to tour arrangements including order of tour activities, hotel and its location if deemed necessary.
SATISFACTION
80%
6 Customer Reviews
Michael Dizon

11/21/2019

Verified Purchase

fast-paced but great

Nice tour. Great continetal breakfast. Nor recommended for older tourist due to the pace and amount of walking

Michael Dizon

11/20/2019

Verified Purchase

Good for young people, not recommended for elderly

Barry Coleman

10/26/2019

Verified Purchase

Tour guides were very knowledgable, friendly and accomodatng to our needs. Every two hours there wss a break to stretch our legs and grab a snack and use washrooms. Communication from Tour 4 fun was not extremely good, they would not and ...didnt idemtify the hotel we would be staying at on the first night after we arrived. Very discncerting not knowing where we were going. We only found out when we were picked up at the airport and taken to the hotel. The tour bus was not cleaned at the end of the day and garbage bin was overflowing.Bus windows were not cleaned daily making picture taking enroute very difficult. No wifi as promised on the bus. Accomodation was often well outside of the city not allowing for exploring the city when we settled for the evening. Read full review

Anonymous

10/08/2019

Verified Purchase

I booked one day from Tour 4 fun prior to the tour. Tour 4 fun got my money for one extra day at the Torcy France hotel. When I checked in at the hotel in France. The hotel said I did not booked the hotel. I have to pay for that day again.... I wrote an email to Tour 4 Fun Customer Service to get a refund for the extra day that I booked before. I got no response. I have a receipt from the hotel. I can email to you a copy of the receipt if you want it. Read full review

John Abando

06/11/2019

Verified Purchase

Everything went well. Its just we need to more time in each trip.
Edit Photo Title & Description
Loading……

We found 0 results matching your search
Questions previously answered may have different answers due to many reasons: season (date and year of travel), rates, availability, etc. Please check the Rewards4Fun Program FAQ for more information.
Cant find your answer? Ask us your question and we will respond within the next 24 hours.
Ask Us
15
Why Book with Tours4fun?
Best Price Guaranteed
Hand-picked Tours & Activities
24/7 Customer Support
Questions? 1-866-933-7368