2-Day Washington DC, Philadelphia and the Amish Country Tour from New York
Product Code: 29-598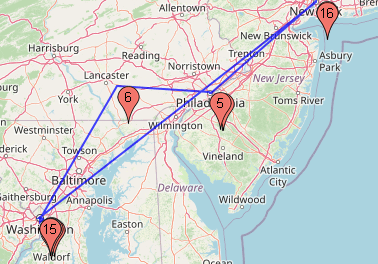 Highlights
• New York
• Philadelphia
• Liberty Bell
• Rocky Steps
• Delaware
• Maryland
• White House
• Space Museum
• Lincoln
• Arlington National Cemetery
• Kennedy Family Gravesite
• Amish Farm Country
• With free WIFI
Language
French, German, Hebrew, Italian, Japanese, Korean, Portuguese, Spanish, English, Chinese
Experience:

UNESCO, Family, Short Break

Visit locations designated as World Heritage Sites by the United Nations; Enjoy activities and tours that are perfect for the whole family; Enjoy a mini-vacation
Tour Type:

Escorted

Tour director/guided escort is available from the beginning to the end of the vacation
Group Type:

Standard group

Tour with fellow travelers from all over the world
Quality:

Value

Travel with professional guides, enjoy more time at attractions and/or stay at comfortable accommodations.
New York - Philadelphia - Washington, D.C.
Hotel: Wyndham Garden, Washington DC or similar
Depart New York through New Jersey and Pennsylvania and to the city of brotherly love Philadelphia. Arriving in the historic area of Philadelphia we visit the famous Liberty Bell, one of the symbols of freedom in America, Constitution square and Congress Hall. Stroll Elfreth's alley the oldest continuously inhabited street in America.

Continue on a panoramic tour of Philadelphia that includes the financial district, Benjamin Franklin Parkway, Historic Philadelphia and more. Departing Philadelphia we see the famous "Rocky Steps" and then continue east to Lancaster county home of the Amish people. We start our visit with a ride on an authentic Amish Buggy through the Amish farm country and learn how they live without the benefit of modern technology, no electricity, running water, telephone service, or appliances.

After the ride we visit the marketplace where we can shop for handmade arts crafts and products.

In the late afternoon we depart east for an evening arrival in Washington DC.





Washington DC - New York
Start the day with a visit of Thomas Jefferson Memorial, by the Tidal Basin, surrounded with famous Japanese cherry blossom trees. Visit the Arlington National Cemetery, the Changing of the Guard and the Kennedy family gravesite.

Next stop is Capitol Hill. See the US Capitol and the White House to understand the core of the US government. Continue to the Air and Space Museum before visiting the Lincoln, Martin Luther King, Korea and Vietnam Memorials.

In the late afternoon we depart north for an evening arrival in New York.
Tips:

The National Air and Space Museum in Washington DC has re-opened with a limited schedule/capacity. All passengers on tours departing Thursday - Sunday who wish to enter the National Air and Space Museum will be required to have a face covering, entry is not guaranteed.
| | | |
| --- | --- | --- |
| | Please note that order of day-to-day itinerary is adjustable depending on tour start day. | |
Search for your nearest pickup point
Package Includes
Entrance to Arlington National cemetery (U.S. ID or Passport required)
Amish buggy ridet
Sightseeing in Philadelphia & Washington DC
Air conditioned Bus or Van & Professional Tour Guide
1 night hotel including tax and Continental Breakfast
Package Excludes
All personal expenses including hotel room service and meals; however, you have the option to pay for meals that tour guide arranges
Insurance - It is recommended that passengers purchase travel insurance prior to departure
Service fee for tour guide and driver
In Spring/Summer, we recommend you to wear lightweight clothing and comfortable shoes.
In Fall/Winter, we recommend layered clothing to ensure comfort in cold weather.
In order to protect your own property, please bring any valuable items with you at any time. Please do not leave any valuable items on the bus/hotel/attraction/restaurant etc. Tours4fun, local operators, drivers and tour guides will not take any responsibility for any theft loss at any location.
Cancellation Policy: For all tours up to 3 days prior to departure no fees. Less than 3 days before departure full cancellation penalty applies. All requests for refunds must be received within 90 days of departure.
This tour/activity is overseen by a select local operator in the region. Upon booking your tour or activity and after receiving confirmation, you will be issued an e-ticket detailing the local operator's name and contact information. If you require assistance finding a specific tour, please contact us for more information.
If any of the attractions are closed due to Covid-19, the guide will arrange the itinerary based on the actual situation on the tour date. Please understand. Thanks.
Pricing Info
Your reservation is always subject to confirmation by email, normally within one to two business days.
*Price for Single Occupancy applies when one person stays in one standard hotel room.
*Price for Double/Triple/Quadruple Occupancy applies when two/three/four people stay in one standard hotel room respectively.
*Triple/Quadruple price does not guarantee a third/forth bed in the room since each room is equipped with 2 beds. Please check the availability at the time of check-in.
*Price for child applies when a 2-14 year-old child stays in one standard room as a third or fourth person.
*Maximum room capacity: 4 people including adult and child/infant.
*Infants under 2 years of age are free of charge.

*The final tour rates already include possible booking fee, handling fee, and exchange rate loss.
Reservation Info
1.Immediately after submitting your reservation you will receive a Receipt of Reservation via email.

2. Within one to two business days of submitting your reservation you will receive a confirmation email from us. If you need to book an airline ticket, we recommend that you do so after you receive a confirmation of your tour reservation from us.

3. An E-Ticket will be sent to you via email as soon as details of your reservation are confirmed or your supporting information is received by us. We will provide you with all detailed information about your tour on the E-Ticket. Contact information for local tour provider will be included on E-Ticket for your convenience or re-confirmation purpose if re-confirmation is required.

4. Simply print your E-Ticket and present it with your valid photo ID on the day of your activity to your tour guide. Please remember E-Ticket is your proof of purchase.
Terms and Conditions
- Your purchase does not guarantee confirmation. Your purchase will initiate a reservation process. We will confirm with you via email within one to two business days.

- Prices may vary due to availability. We reserve the right to make price adjustment without prior notice.

- Local tour provider reserves the right to make modifications to tour arrangements including order of tour activities, hotel and its location if deemed necessary.
SATISFACTION
82%
4 Customer Reviews
Connie Wilhjelm

07/30/2019

Verified Purchase

Det er helt umuligt at kommunikere med arrangørerne og få svar på sine spørgsmål på forhånd, er det robotter, man skriver med? Det var i hvert fald goddag mand økseskaft og nye "underskrivere" der svarede hver gang, selv om det var fortløbe...nde korrespondance. Selve turen var fin - og med en dygtig og vidende guide. Men flere af spisestederne var alt for fyldte, og der var alt for lidt tid til både at finde ud af, hvad der foregik, hvordan man fik mad (og ikke mindst betalte), og nå at spise. Read full review

Erminio Coccioli

07/14/2019

Verified Purchase

The tour guide was very nice

Stephani.Bressan

07/12/2015

Verified Purchase

Buddy travel

Hi someone would join me to Washington or Boston 2-day tour? Thanks

Gopinath Purushothaman

11/26/2014

Verified Purchase

Enjoyable trip

The trip was very enjoyable especially the Amish country which was very beautiful. I would say this trip is the best way to visit Washington from New York for visitors.
Edit Photo Title & Description
Loading……
We found 0 results matching your search
Question:
I would like to book a tour for my parents from Raleigh NC to DC, Philly, NY . Can you guide me on if there is anything available from Raleigh ?
Answer:
Dear Karthika,

Thank you for your interest in Tours4Fun.

The tour date available for this itinerary will be every Wednesdays and...
Question:
Hi, Is it possible if we take this tour (29-598), we just drop off at Washington DC? we don't need to return to NYC, is there any discount if that applicable? thanks!
Answer:
Dear Rangga,

Thank you for your interest in Tours4Fun.

We are unable to offer a drop off at a specific location, however guest...
Question:
Hello - please can you advise what parts of this tour are drive by viewing as opposed to getting off the bus? Kind Regards Carol Aldersonr Australia
Answer:
Dear Carol Alderson,

​
At major locations on the tour, you will have anywhere from 2-3 hours total sightseeing...
Questions previously answered may have different answers due to many reasons: season (date and year of travel), rates, availability, etc. Please check the Rewards4Fun Program FAQ for more information.
Cant find your answer? Ask us your question and we will respond within the next 24 hours.
Ask Us
1
Why Book with Tours4fun?
Best Price Guaranteed
Hand-picked Tours & Activities
24/7 Customer Support
Questions? 1-866-933-7368