3-Day Amsterdam to Paris Tour Package
Product Code: 56-60895
Grand Place | Versailles | The Louvre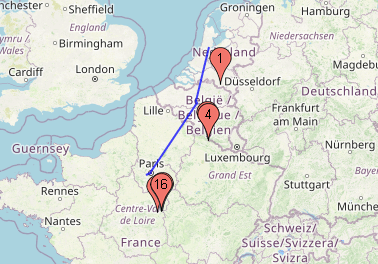 Highlights
• Start your tour in Amsterdam
• Take a tour through the beautiful Brussels
• See the exquisite Grand Place
• Spend two days in Paris
• Enjoy the very best of The Louvre
• Take a day trip to the Chateau de Versailles
Experience:

Cultural, Historical, UNESCO

Learn about local culture with in-depth tours and activities; Encounter rich historical landmarks with expert guides; Visit locations designated as World Heritage Sites by the United Nations
Tour Type:

Escorted

Tour director/guided escort is available from the beginning to the end of the vacation
Group Type:

Standard group

Tour with fellow travelers from all over the world
Activity Level:

Easy

Perfect for any fitness level
Quality:

Budget

The most affordable tour service and/or accommodation with fast-paced itineraries. Eg.Budget hotels, certificated guide, about 10 year safe driving experience driver. Price is about $80.00-$150.00 per day per person.
Accessibility:

Not accessible

Tour does not have wheelchair accessible vehicles/attractions or allow service dogs
Amsterdam - Brussels - Paris
Hotel: Campanile Paris Est-Bobigny / Ibis Paris Orly Rungis or similar
After leaving Amsterdam in the morning you'll head south across the border into Brussels, the Belgian capital and political center of the European Union.

On the way, the tour stops to see the distinctive Atomium monument, a cell-shaped structure of stainless steel spheres and tubes built for the 1958 World's Fair. In the center of Brussels itself we'll take an orientation tour, calling in at the exquisite Grand Place, as well as the famous tinkling cherub Manneken Pis statue.

After some free time, during which you can try some Belgian delights. Then from Brussels it's south again across the French border and on to the bright lights of Paris.
Paris - Versailles - Paris
Hotel: Campanile Paris Est-Bobigny / Ibis Paris Orly Rungis or similar
Paris is your oyster over the next two days as you enjoy guided tours around one of the world's most celebrated cities. We'll drive along the famous Champs Elysees to the Place de la Concorde which played a key part in the French Revolution. You'll also get to see the iconic Arc de Triomphe, the imposing monument that sits near the western end of the avenue and commemorates the fallen of the revolution and Napoleonic wars.

You'll take in another significant historical building next as you head to Les Invalides, where Napoleon's tomb is located, followed by a stop at the most legendary of all icons: the Eiffel Tower. You can either take time to explore the neighborhood and have some lunch, or scale the Eiffel Tower. The choice is yours.

Finally, you'll travel by coach out through the Parisian suburbs to the splendid Palace of Versailles, the vast regal château that was the residence of the royal family until the start of the revolution in 1789.

In the evening, you can enjoy one of our optional cabaret shows in Paris (own expense).
Visiting Attractions
Admission Fees
| Activity | Price | Additional Information |
| --- | --- | --- |
| Seine River Cruise | EUR 15.00/Person | |
| Palace of Versailles | EUR 18.00/Person | |
| Paris Night Tour | €40.00/Person | |
| French Dinner | EUR 70.00/Person | |
| Eiffel Tower 2nd Floor | EUR 11.00/Person | |
| Eiffel Tower Top Floor | EUR 17.00/Person | |
All mandatory fees must be paid in cash to the tour guide and tickets cannot be pre-purchased separatedly.
Any optional activities you wish to join must be paid to your tour guide in cash.
Paris
The second day of your Parisian experience begins with a visit to the Louvre, one of the world's greatest art museums. Here you'll set your eyes upon some of history's most famous masterpieces, including the Venus de Milo, Winged Victory of Samothrace (also called Nike of Samothrace), and Leonardo da Vinci's Mona Lisa. Opt for a guided gallery tour, which will enhance your experience and allow you to browse through hundreds of works in just a few hours. You can then take a leisurely cruise along the river Seine, a great sightseeing option that offers splendid views of iconic Parisian landmarks, including Notre-Dame Cathedral and Pont Alexandre III.

After an exhilarating morning of walking the gallery corridors, replenish your energy levels with lunch in the museum before heading to the area surrounding the Palais Garnier, Paris's Opera House. Afterwards, you have an option of having a French 4 course Dinner and Show experience or spend time shopping at the legendary department stores Galleries Lafayette.

For some tour members, it will be time to say goodbye to new-found friends, while others will opt to stay another night in this French city of delights before picking up the other Line tour the next day
Tips:

There are three times and places where you may conclude the tour:

- 2:00pm at the Louvre
- 6:30pm at Boulevard Haussmann
- 8:00pm at the hotel booked for those extending their tour to other destinations
Visiting Attractions
Admission Fees
| Activity | Price | Additional Information |
| --- | --- | --- |
| Louvre Museum | EUR 17.00/Person | Due to the strict registration of ticket names and the control of the flow of people at the Louvre Museum, it is not possible to purchase tickets at the site. It is recommended that guests please log in to the official website to log in and purchase in advance. https://www.ticketlouvre.fr/louvre/b2c/index.cfm/calendar/eventCode/MusWeb Https://www.22europe.com/activities/973698 Ticket time to buy: 12:30 - 14:30pm. |
| Tour Montparnasse | EUR 14.50/Person | |
| Lido Show with Transfer | EUR 150.00/Person | |
| Moulin Rouge Show with Transfer | EUR 150.00/Person | Age restriction: 18 and up |
| Nouvelle Eve Show with 4 Course Dinner & Transfer | EUR 150.00/Person | available from 2018 |
| Nouvelle Eve Show with Wine & Transfers | EUR 110.00/Person | available from 2018 |
All mandatory fees must be paid in cash to the tour guide and tickets cannot be pre-purchased separatedly.
Any optional activities you wish to join must be paid to your tour guide in cash.
Search for your nearest pickup point
Package Includes
2-night hotel accommodations
Breakfast (coffee or tea, juice and bread)
Ground transportation in air-conditioned motorcoach
Professional tour guide
Package Excludes
Mandatory Service Fee: EUR 7.00 per day, per person, payable to the guide
Paris city tax and overnight tax of EUR 15 per person, per day
Airfare
Airport pick-up, drop-off
All personal expenses and additional hotel services
Lunch and dinner
Optional tours (prices and availability subject to change):
If a visa support letter has already been submitted, an additional charge of 85 Euros will be assessed for any cancellation unless the customer can provide a copy of the embassy's rejection letter.
There might be some adjustment on tour per the actual situation, due to the COVID-19, please understand
Please Note:
1. Guests are not allowed to use a CITY PASS and admission ticket purchased by themselves to join the sightseeing attractions included in this tour.
2. Guests who do use a CITY PASS or admission ticket purchased by themselves, will not be offered the transportation service for that day, and will possible need to pay a penalty fee. Please consult your tour guide for details.
This tour/activity is overseen by a select local operator in the region. Upon booking your tour or activity and after receiving confirmation, you will be issued an e-ticket detailing the local operator's name and contact information. If you require assistance finding a specific tour, please contact us for more information.
If any of the attractions are closed due to Covid-19, the guide will arrange the itinerary based on the actual situation on the tour date. Please understand. Thanks.
Pricing Info
Your reservation is always subject to confirmation by email, normally within one to two business days.
* Child: 2-11 years of age
* Children younger than 2 years of age travel for free, provided they do not occupy a seat on the bus, or a bed in the room.
* Price for Single Occupancy applies when one person stays in one standard hotel room.
* Price for Double Occupancy applies when two people stay in one standard hotel room.
* The bed is about 110cm-120cm *200cm. To be more comfortable, if you are travelling with a kids, suggest to book 1 more room or check with us if share room available.
* Tour prices are based on Euros (EUR) and converted into US dollars (USD). Constant fluctuations in the exchange rate cause prices to change on a regular basis. You will be charged the price based on the applicable exchange rate at the time of payment. All transactions are final. We do not offer discounts or compensation to those citing lower prices at a later date. Bookings will be subject to penalties when modified or cancelled.
*The final tour rates already include possible booking fee, handling fee, and exchange rate loss.
Reservation Info
1.Immediately after submitting your reservation you will receive a Receipt of Reservation via email.

2. Within one to two business days of submitting your reservation you will receive a confirmation email from us. If you need to book an airline ticket, we recommend that you do so after you receive a confirmation of your tour reservation from us.

3. An E-Ticket will be sent to you via email as soon as details of your reservation are confirmed or your supporting information is received by us. We will provide you with all detailed information about your tour on the E-Ticket. Contact information for local tour provider will be included on E-Ticket for your convenience or re-confirmation purpose if re-confirmation is required.

4. Simply print your E-Ticket and present it with your valid photo ID on the day of your activity to your tour guide. Please remember E-Ticket is your proof of purchase.
Terms and Conditions
- Your purchase does not guarantee confirmation. Your purchase will initiate a reservation process. We will confirm with you via email within one to two business days.

- Prices may vary due to availability. We reserve the right to make price adjustment without prior notice.

- Local tour provider reserves the right to make modifications to tour arrangements including order of tour activities, hotel and its location if deemed necessary.
SATISFACTION
90%
15 Customer Reviews
BEBE SATTAUR

08/30/2019

Verified Purchase

they were on time . very good guide

Anonymous

06/15/2019

Verified Purchase

The guide (Alex Ho) was not very informative. When stopping for a "walking tour" he would not wait for everyone to be off the bus before heading off and when he stopped for explanations (which were very "bare bones") he had not waited for ...the group to assemble. His knowledge of Paris was, quite frankly pathetic. The fact that the hotels were at CDG meant we lost 4hours each day (2 hrs going, 2 returning) for our time in Paris. Read full review

Anonymous

06/03/2019

Verified Purchase

Always room for improvement.

Rick J. Prins

05/24/2018

Verified Purchase

Pretty good value for the money. Hotel was fine, room a bit small, not in a great location, but service was good, breakfast was good.

Rabia Narayan

05/16/2018

Verified Purchase

Not enough time for getting in and up the Eiffel tower. This visit should be the first of the day and as early as possible.
Edit Photo Title & Description
Loading……
We found 0 results matching your search
Questions previously answered may have different answers due to many reasons: season (date and year of travel), rates, availability, etc. Please check the Rewards4Fun Program FAQ for more information.
Cant find your answer? Ask us your question and we will respond within the next 24 hours.
Ask Us
2
Why Book with Tours4fun?
Best Price Guaranteed
Hand-picked Tours & Activities
24/7 Customer Support
Questions? 1-866-933-7368