4-Day Hawaii's Big Island Tour
Product Code: 2358-16667
Negative COVID-19 nucleic acid test report needed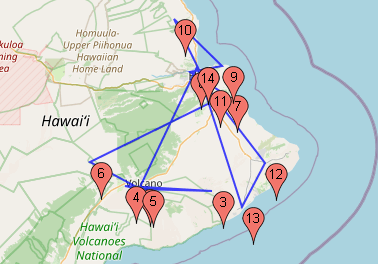 Highlights
• Hawaii Volcanoes National Park
• Lava Tree State Monument
• Richardson Beach Park
• Akaka Falls
Experience:

Nature

Get in touch with Mother Earth
Tour Type:

Guided

Multiple local tour guides/drivers available throughout your tour/activity
Group Type:

Standard group

Tour with fellow travelers from all over the world
Activity Level:

Moderate

Designed for travelers in good health who are comfortable with light walking or hiking
Quality:

Budget

The most affordable tour service and/or accommodation with fast-paced itineraries. Eg.Budget hotels, certificated guide, about 10 year safe driving experience driver. Price is about $80.00-$150.00 per day per person.
Hilo
Hotel: Hilo Hawaiian Hotel or similar
Upon your arrival at Hilo International Airport, you will be transferred to an ocean view hotel.

Passengers arriving by noon can join one of the optional tours below at their own expense:

- Zip-Line (minimum 2 passengers)
- Volcano helicopter tour (minimum 4 passengers)
- Observatory's Sunset Star Watching (Not Summit)
Admission Fees
| Activity | Price | Additional Information |
| --- | --- | --- |
| Volcano Helicopter tour | $280.00/pax(Minimum 2pax) | Service fee is min. $10.00/day per person, Departure time based on helicopter seat availability please book in advance. Child must be more than 4 years old. |
| Hamakuz Zipline | $185.00/Adult,$135.00/Child(under 12). Minimum 2pax, | Service fee is min. $10.00/day per person. Guest must weigh between 80-260 lb. with a good condition. Children between 10-12 years old can take Hamakuz Zipline alone. Children under 10 years old must be accompanied by parent. |
| Mauna Kea Stargazing (Not Summit) | $185/person | Minimum 2pax,Child and Adult are same price ,exclude Admission $10/person |
All mandatory fees must be paid in cash to the tour guide and tickets cannot be pre-purchased separatedly.
Any optional activities you wish to join must be paid to your tour guide in cash.
Volcanoes National Park - Akatsuka Orchid Gardens - Richardson Beach Park - Rainbow Falls
Hotel: Hilo Hawaiian Hotel or similar
This morning we'll tour Hawaii Volcanoes National Park, which contains one of the world's most active volcanoes: Kilauea. Then we'll visit Jaggar Museum, Thurston Lava Tube, and Akatsuka Orchid Garden. Then we'll visit the Macadamia Nut Factory, where we'll learn about the cultivation and harvesting of macadamia nuts.

After lunch we'll visit Richardson Beach Park. If you're lucky you'll see a green sea turtle lying on the rocks. Our next stop is the King Kamehameha statue, where we'll learn a bit of Hawaiian history. Then we'll take a drive to see the famous Rainbow Falls.
Tips:

* On September 22, 2018, parts of Volcanoes National Park were reopened. But due to the incomplete opening, Thomas A. Jaggar Museum will be replaced by Visitor Center, while Thurston Lava Tube and Karst Cave are changed to Chain of Craters Road. Other attractions such as Rainbow Falls, Akatsuka Orchid, Mauna Loa Macadamia Nut Visitor Center and so on remained the same.
Akaka North Shore One Day Tour
Hotel: Hilo Hawaiian Hotel or similar
Today, we will visit the Kalapana Magma, then drive to the east coast of the Big Island, enjoying the scenery along the way. Then we will arrive at the black sand beach of Puhoiki to see the newly formed black sand beach and seawater hot springs after the volcanic eruption of the Big Island in 2018. The new black sand beach emits a metallic sheen that shines in the sun.

Then we will return to the ancient city of hilo for lunch. In the afternoon, we will continue to drive to the Akaka falls on the north shore of the Big Island to see the very long waterfalls on the Big Island where we can drive to. Finally, you will stop at the farmer's market. You can buy freshly produced papaya and other tropical seasonal fruits. Later, we'll return to the hotel to rest and end today's itinerary.
Hilo
Pick-up Details / Transfers
Arrival
Meet the tour guide at Hilo Airport Baggage Claim Area (ITO), and transfer to an ocean view hotel.
***Note: We offer one complimentary airport transfer for each reservation from 8:00am to 10:00pm.
If your flight time is beyond the listed hours, additional surcharges will apply based on your flight information.
Please note the time you will need pickup services in the comment section of your reservation. If you need extra or delayed/earlier airport pick up or drop off service, please contact us for quotation.

Departure
The free airport dropoff service is 8:30am-10:00pm.
Please book your flight after 2:00pm.
If your flight time is beyond the listed hours, additional surcharges will apply based on your flight information.
Package Includes
Complimentary Hilo Int''l Airport (ITO) shuttle service (free time range is 8:00AM-10:00PM)
3-night hotel accommodations
Ground transportation
Package Excludes
All personal expenses, additional hotel services, and meals
Service fees for tour guide and driver (below service fees are brief information for your reference only, you will only need to pay the items available in your tour):
Oahu Island:
-Airport pick up/drop off: $4.00/person/one way
-Inter-island Airport pick up/drop off: $4.00/person/one way
-Pearl Harbor (half day): $6.00/person
-Mini Circle Island Tour (half day): $6.00/person
-Big Circle Island Tour (half day): $10.00/person
-Polynesian Cultural Center: $10.00/person
-other optional tour pickup/drop-off: $2.00/person/way
Big Island:
-Hilo Airport transfer: $4.00/person/way
-Hilo One Day Tour: $10.00/person
-Stargazing on Snow Mountain (not to the top): $10.00/person
Maui Island:
-Maui day tour: $10.00/person.
Other:
-North Shore Sightseeing Tour: $10.00/person
-Akaka North Shore One Day Tour: $10.00/person
-Mauna Kea Stargazing Night Time Tour: $10.00/person
Optional activities and entrance fees
Covid-19 related information:
From July 8th, guests can enter Hawaii island if you meet one of the below conditions:
1) The vaccine injection (two doses of Pfizer / two doses of Moderna / one dose of Johnson) must be completed for at least 14 days (not included), then on the 15th day, you can register online with the CDC vaccine card (https://travel.hawaii.gov/#/) Hawaii Safe Travel Plan, you need to obtain a QR code, carry a vaccination record card with you when you travel, so as to avoid the 10-day quarantine requirement.
(2) All passengers who have not completed the vaccination under (1) (including children five years of age and older) must provide NAAT (PCR) Test negative report of nucleic acid test within 72 hours and complete online registration (https://travel.hawaii.gov/#/).You need to obtain the QR Code in order to be exempt from the 10-day quarantine requirement.
(3) All ages who failed to complete the vaccination requirements and failed to provide a negative report of NAAT (PCR) Test within 72 hours must cooperate with the Hawaiian government's safe travel plan-go directly to the 10-day quarantine. For more information, please check Here
Cancellation Policy
OFF SEASON:
* Cancellation Made Within 9 days prior to departure - Non-refundable;
* Cancellation Made 10 or More Days Prior to Departure Date - 90% of the total purchase amount can be refunded.
HIGH SEASON:
* Cancellation Made Within 32 days prior to departure - Non-refundable;
* Cancellation Made 33 or More Days Prior to Departure Date - 90% of the total purchase amount can be refunded.
* High season includes: Chinese New Year, Spring Festival(about March - April), Summer Vacation(about June - August), Thanksgiving Day(about late November), Marathon(about beginning of December)
* Airtickets cannot be cancelled or changed once confirmed.
* Due to the different cancellation policy for each hotel, please check with our customer service team for the final confirmation.
Flight information must be provided in order for airport transfer services to be arranged. If flight information is not provided or relayed at the last minute, we will assume you have arranged your own transportation and no driver will be sent. If you decide to make the trip from the airport to the hotel yourself, please inform us at your earliest convenience. If you opt out of airport transfer service, you may still request said service provided we receive the request well in advance. Urgent requests to reinstate airport shuttle service will not be guaranteed. If a flight is delayed, Tours4Fun / local provider will attempt to arrange pick-up at a later time, but this is not guaranteed. If an airport transfer service is not available, all guests are responsible for arranging their own transportation from the airport to the hotel.
Depending on your arrival time, your hotel room may not be available until the afternoon. Most hotels allow check-in between 1:00pm-3:00pm, however some charge a fee for early check-in. Please check at the hotel desk to see if you may store your luggage at the hotel if you wish to explore the city on your own before check-in.
This tour/activity is overseen by a select local operator in the region. Upon booking your tour or activity and after receiving confirmation, you will be issued an e-ticket detailing the local operator's name and contact information. If you require assistance finding a specific tour, please contact us for more information.
If any of the attractions are closed due to Covid-19, the guide will arrange the itinerary based on the actual situation on the tour date. Please understand. Thanks.
Pricing Info
Your reservation is always subject to confirmation by email, normally within one to two business days.
*Price for single occupancy applies when one person stays in a standard hotel room.
*Price for double, triple, and quad occupancy applies when two, three, and four people stay in one standard hotel room, respectively.
*Triple and quad price does not guarantee a third and fourth bed in the room, but may be requested at check-in.
*The price is the same for all ages. Children under the age of 2 join the tour for free.
*Maximum room capacity: 4 people including adults and children/infants.
*Sudden spikes in transportation and hospitality costs may compel us to adjust the price of this tour. We will re-confirm the final price with you once you have placed your order.
*Please note that fares are subject to change according to the change of airfare, hotel, tax and surcharges. We'll confirm and notify you the final price after you submit the reservation.

*The final tour rates already include possible booking fee, handling fee, and exchange rate loss.
Reservation Info
1.Immediately after submitting your reservation you will receive a Receipt of Reservation via email.

2. Within one to two business days of submitting your reservation you will receive a confirmation email from us. If you need to book an airline ticket, we recommend that you do so after you receive a confirmation of your tour reservation from us.

3. An E-Ticket will be sent to you via email as soon as details of your reservation are confirmed or your supporting information is received by us. We will provide you with all detailed information about your tour on the E-Ticket. Contact information for local tour provider will be included on E-Ticket for your convenience or re-confirmation purpose if re-confirmation is required.

4. Simply print your E-Ticket and present it with your valid photo ID on the day of your activity to your tour guide. Please remember E-Ticket is your proof of purchase.
Terms and Conditions
- Your purchase does not guarantee confirmation. Your purchase will initiate a reservation process. We will confirm with you via email within one to two business days.

- Prices may vary due to availability. We reserve the right to make price adjustment without prior notice.

- Local tour provider reserves the right to make modifications to tour arrangements including order of tour activities, hotel and its location if deemed necessary.
SATISFACTION
82%
3 Customer Reviews
Anonymous

11/13/2019

Verified Purchase

Anonymous

08/06/2019

Verified Purchase

The guide was very efficient and accommodating. We thought some of her information was not accurate.

Janet & Brent Hollister

03/01/2018

Verified Purchase

4 Day Hilo Tour

Overall the package was very good. Pickup and drop off at airport was timely on schedule. Both tour days were rain filled; but Tour Guides Sohee (Day 1) and Maggie (Day 2) made the most of the situation. They provided us with excellent insi...ght and ensure we got our money's worth. Read full review
Edit Photo Title & Description
Loading……
We found 0 results matching your search
Question:
Hello! I'm looking for tour package of big island for 4 days including airplane tickets, hotel, and some tours. Date; 8/19 - 8/22 No. Of people: 2 Could you let me know a few options of the package and the prices? Thanks! Sunny
Answer:
Dear Yunsun,

Thank you for your inquiry!

Please note, our packages do not include flights. Please view all our 4 day Hawaii...
Questions previously answered may have different answers due to many reasons: season (date and year of travel), rates, availability, etc. Please check the Rewards4Fun Program FAQ for more information.
Cant find your answer? Ask us your question and we will respond within the next 24 hours.
Ask Us
3
Why Book with Tours4fun?
Best Price Guaranteed
Hand-picked Tours & Activities
24/7 Customer Support
Questions? 1-866-933-7368