8-Day Argentina & Patagonia Tour: Buenos Aires & El Calafate
Product Code: 3215-209977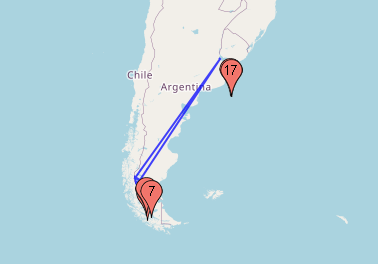 Highlights
• Travel from Buenos Aires into the heart of Patagonia
• SDiscover the beauty of the Tigre
• Learn firsthand about the art of Tango
• See the wild natural landscapes of Patagonia, including snowy peaks, scenic lakes, and beaver dams
• Tour the heart of Los Glaciares National Park
Experience:

Historical, Honeymoon, UNESCO, Nature, Family

Encounter rich historical landmarks with expert guides; Travel the world with your partner to romantic resorts and destinations; Visit locations designated as World Heritage Sites by the United Nations; Get in touch with Mother Earth; Enjoy activities and tours that are perfect for the whole family
Tour Type:

Independent

No guide will be available except during included excursions/activities/transfers
Group Type:

Standard group

Tour with fellow travelers from all over the world
Activity Level:

Moderate

Designed for travelers in good health who are comfortable with light walking or hiking
Quality:

Value

Travel with professional guides, enjoy more time at attractions and/or stay at comfortable accommodations.
Arrival in Buenos Aires
Hotel: Europlaza Hotel & Suites or similar
Upon your arrival at Buenos Aires airport (Ezeiza or Aeroparque), you will be met and transferred to the Europlaza hotel in the city center.

The rest of the day will be free for you to spend at your leisure.
Tips:

The Europlaza Hotel & Suites is a 3 stars hotel and offers a strategic location, a few blocs away from the Obelisk and the 9 de julio Avenue, you can fully enjoy the city center.
Buenos Aires - El Calafate
Hotel: Hosteria Hainen or similar
After breakfast you will be collected from your hotel and transferred to the Jorge Newbery Airpark for your domestic flight to El Calafate.

Upon arrival at the El Calafate Airport, you will be met and transferred to the Hosteria Hainen, where you can relax for the rest of the day.

El Calafate is a picturesque village close to Lago Argentino, one of Patagonias largest and most stunning lakes. It's also the entrance to the amazing land of the glaciers.
Tips:

Located on a natural viewpoint 350 meters from the center, with wonderful views of Lake Argentino and the Andes Mountains, the Hosteria Hainen is a 3 Stars hotel, comfortable and with personalized attention.
Perito Moreno Glacier Boat Safari
Hotel: Hosteria Hainen or similar
Today's Los Glaciares National Park excursion is perfect for those nature lovers who want to explore lakes, rivers, mountains and trails to discover one of its greatest wonders, the only advancing glacier in the world, Perito Glacier. Known worldwide for its unique phenomena: huge parts of the glaciers fall out in the Argentino Lake once a year, attracting thousands of people. The Safari Boat ride will take so close to the glacier you will feel how cold it is and see how small we feel next to it!

After breakfast, we will pick you up from your hotel and we will head towards Los Glaciares National Park. We will drive along the scenic Route 11, which runs alongside the main course of Lago Argentino on our way to Brazo Rico.

Once in the park, we will go to Curva de los Suspiros, where we will get off the vehicle to take a first look at the Perito Moreno Glacier, which is certainly an amazing image. Later we will make another stop at the Muelle bajo las Sombras, where we will navigate to get closer to the southern wall of the glacier.

By boat we will approach to the stunning Perito Moreno ice walls, getting close enough to contemplate its immensity and also to observe the ice landslides that continually take place. As we get to the front wall, the boat will stop for a few minutes to get a better look at the landscape, giving us a very good opportunity to take interesting photographs and film the scene.

Then we will go to the front catwalks of the glacier, where we will see it from several balconies located at different heights, allowing to appreciate it from different angles, each more beautiful than the last one. Finally we will enjoy some free time to spot the different detachments that continually take place, and those who want to, can enjoy lunch at any of the restaurants near the runways.

In the afternoon we will return to El Calafate and we will drop you off at your hotel.

The rest of the evening is yours to enjoy El Calafate.
Tips:

WHAT TO BRING?
* Warm Clothes And Jacket
*Comfortable Shoes
* Sunglasses And Sunscreen Filter

Full Day Boat Trip on the Ice River From El Calafate
Hotel: Hosteria Hainen or similar
Our journey to the Ice Rivers of Patagonia will take so close to the glaciers you will feel Patagonia's heartbeat against your fingertips.

Early in the morning, after breakfast, your guide will pick you up from your hotel and you will head towards the Port of Punta Bandera, 47 kilometers away from the city of El Calafate. You will drive by the Route 11 to Los Glaciares National Park and will skirt the main part of Lake Argentino to Puerto Bandera's private port, arriving around 8:30 am.

You will be quickly informed about the safety and seaworthiness and you will then embark on modern Catamaran at 09:00 am, to start navigating between icebergs in the north and Upsala Glacier to the namesake.

Travelling through another arm of Lake, you will observe the highest Glacier, Glacier Spegazzini with almost 100 meters of height.

After spending the day being impressed by the landscapes and unique experience, you will be taken back to shore and take ground transportation to El Calafate.
Tips:

* The tour can be modified depending on weather conditions and safety and the decision of the captain of the boat.
WHAT TO BRING : warm clothes, food & water
El Calafate to Buenos Aires
Hotel: Europlaza Hotel & Suites or similar
In the morning you'll be met at your hotel and transferred to the airport in El Calafate for your return flight to Buenos Aires.

Upon arrival at the domestic airport you'll be welcomed and transferred to your hotel in Buenos Aires.

You will have your afternoon free for your last souvenirs shopping or just to take a walk around the city.
Panoramic City Tour and Tango Show
Hotel: Europlaza Hotel & Suites or similar
Today we'll introduce you to Buenos Aires, from the great attractions to the amazing culture, including an exciting Tango Show.

Buenos Aires City Tour



Discover the magic of Buenos Aires. Perfect for first-time visitors, this morning or afternoon three-hour city tour is a well-rounded introduction to Buenos Aires' famous sights while also leaving you with some free time to explore a bit more of the city.

After breakfast, you will be picked-up from your hotel and go for a three-hour bus tour, including the beautiful parks and gardens of Recoleta and Palermo neighborhoods, the Colon Theater, Mayo Square, the cathedral, traditional Mayo Avenue, Congress Square and many other buildings and palaces.

We will start our tour through one of the main avenues, the 9th of July Avenue, where we'll see the Teatro Colon and the Obelisk. Afterwards we will visit the Plaza de Mayo, where we will do our first stop, There was the historical, political and foundational epicenter of the city; We will be able to take Photos of the Metropolitan Cathedral, the Government House, the Cabildo.

The tour will continue south through the old neighborhood of San Telmo, passing through Parque Lezama, and then on to the neighborhood of La Boca, where we have our second stop. Famous for the stadium of Boca Juniors, one of the greatest exponents of the Argentinian passion: Football; and also important for Caminito, one of the biggest Tourist Attractions, full of color, magic and history.

After the break we'll move to Puerto Madero, which is one of the newest, most exclusive and most modern neighborhoods in Buenos Aires with its main areas of Retiro and Plaza San Martin.

We'll move on to Palermo, which is Buenos Aires main green area.

The last neighborhood we'll visit is the exclusive and sophisticated neighborhood of La Recoleta to end up our excursion in Buenos Aires in downtown where we will thank every person on the tour hoping to have you back in the future.

Tango Show

At night, around 8 pm, you will be picked up at your hotel to enjoy an exclusive meal, followed by a tango show with the best dancers of the City. You can enjoy an exquisite dinner of three steps with over thirty options Argentinian and international dishes. The service includes starter, main course soft drinks, mineral water, wines from winery Finca Flichman, dessert and coffee.

On the menu, you will find the best Argentinian dishes like, chicken, meat, varieties of pastas and salads.

Starter hot and cold
-Fries empanadas. Stuffed with meat, onions, scallions, egg, peppers and olives.

Main course
-Bife de chorizo grille. With potatotes, onions, corn, tomatoes, green onions, red peppers.
-Wok sauteed tenderloin with onions, potatoes, rice, sauce.
-Veal Cutlets with mashed tricolor. Mashed potatoes, pumpkin and sweet potato.
-Pope Arugula gnocchi, arugula, prosciutto and mozzarella roquefort cream.
-Pollack stew shrimp cream sauce, peppers, onions, carrots, zuchinnis and shrimp.
-Lamb and mushroom casserole tomatoes, carrots, eggplants, onions, pepper and potatoes.

Dessert
-Triffle red fruit and Chocolate Biscuit.

Drinks
-Malbec and Chardonnay wines (1 bottle for 2 people)
-Beer (free)
-Sodas and water (free)
-Coffee and tea (free)

10:15 pm: After a delicious dinner the show begins. A quartet of musicians start playing the pieces of classic tango and on stage four pairs of dancers fall in love with the audience with precision and sensuality.

Two singers dazzle the audience with their voices and the same will be complemented with stories of the history of tango and Buenos Aires, its charachters and circumstances from 1860 to the present.

11:30 pm: the event will finish and near and we´ll take you back to your hotel after living a great cultural and gastronomic experience.
Tips:

Morning Tour City Tour:
Starts Between 9:00am - 9:40am and ends between 12:30pm - 1:30pm in the Central Area around Córdoba Avenue and Florida Pedestrian Street.
We do not included hotel drop off.

Afternoon City Tour:
Starts Between 1:40pm - 2:40pm & ends between 5:30pm - 6:15pm in the Central Area around Córdoba Avenue and Florida Pedestrian Street.
We do not included hotel drop off.

Tango Show
Dress code is smart casual.
Tigre Delta Half Day Trip from Buenos Aires
Hotel: Europlaza Hotel & Suites or similar
"Watching the Delta" means appreciating the generosity of nature in this singular place of the world, which could never be invisible to your eyes.



In the morning, you will be picked up from your hotel where you will board a comfortable bus and head towards Tigre, up north.

The first stop will be in San Isidro City, where our guides will take you to visit the beautiful Cathedral of San Isidro and popular mansions inhabited by ancient aristocratic families of Buenos Aires. Then you will continue the journey to Tigre.

In Tigre we will climb aboard a catamaran where we'll enjoy a 40 minutes tour of the Delta. There, we can see the landscape of rivers and streams that cross forming numerous islands.

You can see the lifestyle of the local people and how they interact with services operating on a floating way in rivers: boats, rafts, water taxis. You will also see houses built on stilts and the house-museum of president Sarmiento.

At the end of the boat ride, you will return to the port to board the bus again and make your way back to Buenos Aires.

On the way back to Buenos Aires we will pass by the Presidential Residence (Quinta de Olivos).
Tips:

Morning tour: starts between 8:30am and 09:30am. Ends in the city centre between 12:30pm and 1:30pm.
Afternoon Tour: starts between 12:30pm and 1:30pm. Ends in the city centre between 5:30pm and 6:30pm
Duration: 4 hours

Leaving Buenos Aires
Pick-up Details / Transfers
Airport transfers will be arranged by the local operator prior to the start of the tour.
Arrival
Transfers are available from the following airports:
International Ezeiza Airport - EZE
Jorge Newbery Airpark- AEP

Upon your arrival at Buenos Aires airport (Ezeiza or Aeroparque), you will be met and transferred to the Europlaza hotel in the city center.
Package Includes
7-Night Accommodation in standard room for selected hotel with breakfast included
Tours and transfers as specified in itinerary
Taxes
Bilingual Guides
Package Excludes
Flights
National Parks Fees
Extras, Meals and Others NOT Specified in itinerary
Personal expenses
Please provide us with your flight information prior to the start of the tour to arrange your airport transfer services.
This tour/activity is overseen by a select local operator in the region. Upon booking your tour or activity and after receiving confirmation, you will be issued an e-ticket detailing the local operator's name and contact information. If you require assistance finding a specific tour, please contact us for more information.
If any of the attractions are closed due to Covid-19, the guide will arrange the itinerary based on the actual situation on the tour date. Please understand. Thanks.
Pricing Info
Your reservation is always subject to confirmation by email, normally within one to two business days.
* Tour requires a minimum of 2 guests to depart.
* Not valid for special dates such as New Year's Eve, Carnival, Holy Week
* Rates subject to change without prior notice.
*The final tour rates already include possible booking fee, handling fee, and exchange rate loss.
Reservation Info
1.Immediately after submitting your reservation you will receive a Receipt of Reservation via email.

2. Within one to two business days of submitting your reservation you will receive a confirmation email from us. If you need to book an airline ticket, we recommend that you do so after you receive a confirmation of your tour reservation from us.

3. An E-Ticket will be sent to you via email as soon as details of your reservation are confirmed or your supporting information is received by us. We will provide you with all detailed information about your tour on the E-Ticket. Contact information for local tour provider will be included on E-Ticket for your convenience or re-confirmation purpose if re-confirmation is required.

4. Simply print your E-Ticket and present it with your valid photo ID on the day of your activity to your tour guide. Please remember E-Ticket is your proof of purchase.
Terms and Conditions
- Your purchase does not guarantee confirmation. Your purchase will initiate a reservation process. We will confirm with you via email within one to two business days.

- Prices may vary due to availability. We reserve the right to make price adjustment without prior notice.

- Local tour provider reserves the right to make modifications to tour arrangements including order of tour activities, hotel and its location if deemed necessary.
Edit Photo Title & Description
Loading……
We found 0 results matching your search
Question:
Please advise which airline is most economical to fly in to el calafate
Answer:
Dear Mario,

Regrettably, we don't provide flight quotes or information.

Thank you for your inquiry.


Best Regards,
Gloria...
Question:
Are hotels and transportation and food included and our group is 5 adults, what would be the price , will arrive in buenos aires on 12/29
Answer:
Dear Mario,

Thank you for your interest in Tours4Fun

Foods are not included in the tours. These are the inclusions...
Question:
Hola We are arriving back in Ushuaia on 9 Feb19. We are interested in a tour to Patagonian arriving back in BA for anternation flight on 17 Feb . We are interested in some light hikes during the tour. Thank you Mike and Liz
Answer:
Dear Mike ,

Thank you for your inquiry at Tours4Fun.

How can we help you regarding the tour?

To place your order for a...
Questions previously answered may have different answers due to many reasons: season (date and year of travel), rates, availability, etc. Please check the Rewards4Fun Program FAQ for more information.
Cant find your answer? Ask us your question and we will respond within the next 24 hours.
Ask Us
7
Why Book with Tours4fun?
Best Price Guaranteed
Hand-picked Tours & Activities
24/7 Customer Support
Questions? 1-866-933-7368