5-Day Central and Eastern Europe Tour: Frankfurt to Munich
Product Code: 56-61018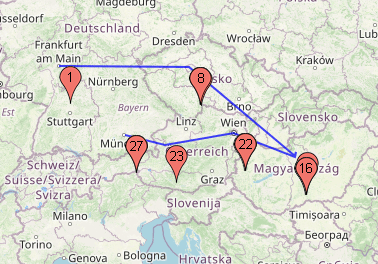 Highlights
• Tour the beautiful and royal Prague
• Overnight in Bratislava
• Take an opcional Danube cruise while in Budapest
• See the major highlights of Vienna
• Visit the charming Mondsee, home to the medieval Mondsee Abbey
Experience:

UNESCO, Historical, Nature

Visit locations designated as World Heritage Sites by the United Nations; Encounter rich historical landmarks with expert guides; Get in touch with Mother Earth
Tour Type:

Escorted

Tour director/guided escort is available from the beginning to the end of the vacation
Group Type:

Standard group

Tour with fellow travelers from all over the world
Activity Level:

Moderate

Designed for travelers in good health who are comfortable with light walking or hiking
Quality:

Budget

The most affordable tour service and/or accommodation with fast-paced itineraries. Eg.Budget hotels, certificated guide, about 10 year safe driving experience driver. Price is about $80.00-$150.00 per day per person.
Accessibility:

Not accessible

Tour does not have wheelchair accessible vehicles/attractions or allow service dogs
Frankfurt - Prague
Hotel: Best Western Amedia Prague / Dorint Hotel Don Giovanni Prague or similar
We'll depart in the morning, reaching the Czech border in the early afternoon and Prague by dusk. Commonly referred to as Zlata Praha, or Golden Prague, the capital of the Czech Republic is a resplendent vision of Old World glory.
Prague - Bratislava
Hotel: Vienna House Easy Chopin Bratislava / Lindner Hotel Gallery Central Bratislava or similar
Your Prague adventure begins with a spectacular walk along the coronation path of the kings and queens of old Bohemia. We'll start at the top of Castle Hill in the Hradcany District and then visit Prague Castle, official residence of the president of the republic, and according to Guinness Book of World Records, the largest ancient castle in the world. Fees for the castle also include admission to Golden Lane, a street of 11 historic houses situated inside the castle complex, and the imposing St. Vitus Cathedral. Crossing the Charles Bridge, we'll enter the old quarter and see the Astronomical Clock in Old Town Square, which has played host to both uprisings and executions, and remains the political and cultural heart of the city to this day.

After lunch in the square, we will make the scenic transfer from Prague to the hotel in or near the Slovakian capital, Bratislava.

Tips:

There is no scheduled sightseeing in Bratislava. From Prague we will drive directly to the hotel in or near Bratislava. The next morning following breakfast, we will drive to Budapest.
Visiting Attractions
Admission Fees
| Activity | Price | Additional Information |
| --- | --- | --- |
| Prague Castle | EUR 13.00/person | Old Royal Palace, St. George's Basilica, Golden Lane and St. Vitus Cathedral |
| Hradcany Castle | EUR 13.00/Person | |
All mandatory fees must be paid in cash to the tour guide and tickets cannot be pre-purchased separatedly.
Any optional activities you wish to join must be paid to your tour guide in cash.
Bratislava - Budapest
Hotel: Expo Congress Hotel / Mercure Budapest Buda or similar
After breakfast we'll depart for Budapest, the capital of Hungary. Major attractions on our tour include Heroes' Square, featuring statues of the Seven Chieftains of the Magyars and other important national leaders, as well as the Tomb of the Unknown Soldier; the Hungarian Parliament Building; Elisabeth Bridge; Fisherman's Bastion; and Matthias Church. You will then have the option of joining the scenic Danube River cruise.
Visiting Attractions
Admission Fees
| Activity | Price | Additional Information |
| --- | --- | --- |
| Danube River Cruise | EUR 20.00/Person | |
| Fisherman's Bastion | EUR 3.00/person | |
| Matthias Church | EUR 8.00/person | |
| Hungary Folklore Show + Dinner | EUR 50.00/Person | |
All mandatory fees must be paid in cash to the tour guide and tickets cannot be pre-purchased separatedly.
Any optional activities you wish to join must be paid to your tour guide in cash.
Budapest - Vienna
Hotel: Ramada Encore hotel Vienna City Center / Ibis Wien Mariahilf or similar
Today's itinerary is devoted to Vienna, the capital of Austria. There we'll visit Schonbrunn Palace, former summer residence of the Imperial family and preferred living quarters of Empress Maria Theresa; Stadtpark (City Park), home of the gilded bronze statue of Johann Strauss; the Austrian Parliament Building; the world-famous Vienna State Opera; and Hofburg Palace. After a stroll along the Kartnerstrasse we'll arrive at St. Stephen's Cathedral. Tickets for a Viennese Waltz concert may also be arranged (at your own expense).
Visiting Attractions
Admission Fees
| Activity | Price | Additional Information |
| --- | --- | --- |
| Schonbrunn Palace | EUR 14.2/person | |
| Vienna Waltz Concert with Transfers | €69.00/Person + €15.00 transfer | |
All mandatory fees must be paid in cash to the tour guide and tickets cannot be pre-purchased separatedly.
Any optional activities you wish to join must be paid to your tour guide in cash.
Vienna - Mondsee - Munich
After breakfast, we'll head up into the Alps to fabled Mondsee, a town situated on the shores of Lake Mondsee, home to the medieval Mondsee Abbey. The cloister church was used as the site for the wedding in The Sound of Music. After arriving in Munich, we'll visit Marienplatz, a central square in the city center, and New Town Hall, which has continuously housed the city council, the mayor's office, and part of the the administrative body since 1874.

You will be dropped off at 6:00pm in Munich at the Isar Gate, under the clock tower.
Search for your nearest pickup point
Package Includes
4-night hotel accommodations
Simple breakfast (coffee or tea, juice and bread)
Ground transportation in air-conditioned motorcoach
Professional tour guide
Package Excludes
Mandatory Service Fee: EUR 7.00 per day, per person, payable to the guide
Mandatory City Tax (pay prior to entering the city):
- Prague entrance tax: EUR 5.00/person
- Vienna entrance tax: EUR 5.00/person
Airfare
Airport pick-up, drop-off
All personal expenses and additional hotel services
Lunch and dinner
Optional tours (prices and availability subject to change):
If a visa support letter has already been submitted, an additional charge of 85 Euros will be assessed for any cancellation made at least 48 days before departure, unless the customer can provide a copy of the embassy's rejection letter.
There might be some adjustment on tour per the actual situation, due to the COVID-19, please understand
Please Note:
1. Guests are not allowed to use a CITY PASS and admission ticket purchased by themselves to join the sightseeing attractions included in this tour.
2. Guests who do use a CITY PASS or admission ticket purchased by themselves, will not be offered the transportation service for that day, and will possible need to pay a penalty fee. Please consult your tour guide for details.
This tour/activity is overseen by a select local operator in the region. Upon booking your tour or activity and after receiving confirmation, you will be issued an e-ticket detailing the local operator's name and contact information. If you require assistance finding a specific tour, please contact us for more information.
If any of the attractions are closed due to Covid-19, the guide will arrange the itinerary based on the actual situation on the tour date. Please understand. Thanks.
Pricing Info
Your reservation is always subject to confirmation by email, normally within one to two business days.
* Adult: 12 and older
* Child: 2-11 years of age
* Children younger than 2 years of age travel for free, provided they do not occupy a seat on the bus, or a bed in the room.
* Price for Single Occupancy applies when one person stays in one standard hotel room.
* Price for Double Occupancy applies when two people stay in one standard hotel room.
* Tour prices are based on Euros (EUR) and converted into US dollars (USD). Constant fluctuations in the exchange rate cause prices to change on a regular basis. You will be charged the price based on the applicable exchange rate at the time of payment. All transactions are final. We do not offer discounts or compensation to those citing lower prices at a later date. Bookings will be subject to penalties when modified or cancelled.
*The final tour rates already include possible booking fee, handling fee, and exchange rate loss.
Reservation Info
1.Immediately after submitting your reservation you will receive a Receipt of Reservation via email.

2. Within one to two business days of submitting your reservation you will receive a confirmation email from us. If you need to book an airline ticket, we recommend that you do so after you receive a confirmation of your tour reservation from us.

3. An E-Ticket will be sent to you via email as soon as details of your reservation are confirmed or your supporting information is received by us. We will provide you with all detailed information about your tour on the E-Ticket. Contact information for local tour provider will be included on E-Ticket for your convenience or re-confirmation purpose if re-confirmation is required.

4. Simply print your E-Ticket and present it with your valid photo ID on the day of your activity to your tour guide. Please remember E-Ticket is your proof of purchase.
Terms and Conditions
- Your purchase does not guarantee confirmation. Your purchase will initiate a reservation process. We will confirm with you via email within one to two business days.

- Prices may vary due to availability. We reserve the right to make price adjustment without prior notice.

- Local tour provider reserves the right to make modifications to tour arrangements including order of tour activities, hotel and its location if deemed necessary.
SATISFACTION
94%
7 Customer Reviews
Nittaya

09/09/2019

Verified Purchase

well organized, on time Mano is great tour manager very informative n helpful.

Stefan Scheibelhoffer

08/11/2018

Verified Purchase

Excellent. Nice hotels for the price. Bus was good

Dave Blanchard

05/14/2018

Verified Purchase

Hotel locations definitely not "in" and probably not "near"

What you see is what you get! We were told the bus was brand new and it smelled like it, but the seats were very cramped, smaller than any plane I have ever flown on, and the promised wifi was "unavailable" for the duration of our tour. ...Our guide Sebastian was great and our driver Mattias was even better. The itinerary was exactly as stated on the description--not a thing more and not a thing less. Don't plan for extra time or opportunity to see ANYTHING not explicitly spelled out on the itinerary. My biggest issue by far was the accomodations. The hotels were WAY out of town, which meant that by the time you got to the hotel (on two of the four nights) it was too late to even find a cold sandwich for dinner, let alone get a real meal or see any culture or experience any of the cities. You were left to sit on your bed listening to your stomach growl and wait to fall asleep. Also don't plan on air conditioning in your hotel rooms! Our tour was the beginning of May and we already wished for it. Tours4Fun appears to be a broker/consolidator of tour services so plan to be lumped with lots of different tours and drop off and pick up other tourists along the way (half of our bus was a Vietnamese language tour with their own guide--not a problem just something to be aware of). Also keep in mind that you will be limited by the slowest (and most perpetually late) people on your bus, so if you hate waiting this might not be for you. All said, it was an efficient and affordable way to get from point A to point B and see the cities and sites listed on the itinerary. Nothing more, nothing less. Next time we will go at it alone. Read full review

Donna-Michelle Royer-Powe

06/02/2017

Verified Purchase

The tour guide Florian was amaxing.Pleasant! Knowledgeable and patient. The tour was hectic but we got to all the salient places.

Anonymous.

06/01/2017

Verified Purchase

Wonder trip in Europe!

What an amazing tour and guide.Florian was amazing. Knowledgeable, entertaining and patient. The tour was fantastic however the meeting point for pick on the first day need to be much more precise that is bus company and pick up point commu...nicated. The hotels need a bit of an upgrade but i must say they were very clean and breakfast was always good! A 5 star holiday on a 3 star budget! Value for money! Hope to do this again in 2 years. Read full review
Edit Photo Title & Description
Loading……

We found 0 results matching your search
Questions previously answered may have different answers due to many reasons: season (date and year of travel), rates, availability, etc. Please check the Rewards4Fun Program FAQ for more information.
Cant find your answer? Ask us your question and we will respond within the next 24 hours.
Ask Us
4
Why Book with Tours4fun?
Best Price Guaranteed
Hand-picked Tours & Activities
24/7 Customer Support
Questions? 1-866-933-7368