6-Day Central Europe Tour Package: Vienna | Budapest | Bratislava | Prague
Product Code: 3760-232732
Vienna Int'l Airport Pick-up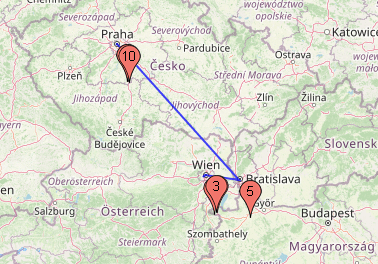 Highlights
• Take a trip through four amazing countries in Central Europe
• Explore Vienna, Budapest, Prague, Bratislava, and more!
• Cruise along the Vltava River in Prague, and the Danube River in Budapest
• Discover Prague Castle
• Evening transfers to Prague Old Town Square
Experience:

UNESCO, Historical, Marine

Visit locations designated as World Heritage Sites by the United Nations; Encounter rich historical landmarks with expert guides; Explore the waters of the world by cruise, kayak or surf board
Tour Type:

Guided

Multiple local tour guides/drivers available throughout your tour/activity
Group Type:

Standard group

Tour with fellow travelers from all over the world
Activity Level:

Easy, Moderate

Perfect for any fitness level; Designed for travelers in good health who are comfortable with light walking or hiking
Quality:

Value

Travel with professional guides, enjoy more time at attractions and/or stay at comfortable accommodations.
Accessibility:

Not accessible

Tour does not have wheelchair accessible vehicles/attractions or allow service dogs
Vienna
Hotel: Rainers Hotel Vienna / Senator Hotel Vienna or similar
Welcome to Vienna! 

Upon entering the arrivals hall at Vienna International Airport, a driver will be waiting to transfer you to the hotel. Your guide will be there to give you an overview of the tour. If you arrive later in the evening you may pick up your travel kit at the front desk.
Vienna
Hotel: Rainers Hotel Vienna / Senator Hotel Vienna or similar
We'll begin with a scenic tour of Vienna with a local expert, experiencing the broad avenues, majestic palaces, and vibrant city center. Directly afterwards, we'll head Schonbrunn Palace where visitors may perambulate through the lovely palace gardens.

In the evening we'll go to City Hall Square to enjoy the beautiful lights and the nightlife. There you can dine at your preferred restaurant at your own expense.
Vienna - Budapest
Hotel: Park Inn By Radisson Budapest / Danubius Hotel Arena or similar
In the morning we'll say farewell to Austria and depart for Hungary, ultimately arriving in Budapest.

Here, we'll discover the Queen of the Danube on a scenic tour of Budapest: historic Buda on one side of the river, and cosmopolitan Pest on the other.

Afterwards, we'll have free time to stroll along the Danube River and dine at one of the many restaurants found here (own expense).
Budapest - Bratislava - Prague
Hotel: Panorama Hotel Prague / Orea Hotel Pyramida / Hotel Expo or similar
In the morning we'll venture out of Budapest and make our way to Bratislava, the Slovakian capital with an attractive historic center. Free time for lunch (own expense). We'll continue to Prague for hotel check-in. In the late afternoon we'll provide transfers to Old Town Square. Avail yourself of the myriad restaurants offering cuisines from around the world.
Prague
Hotel: Panorama Hotel Prague / Orea Hotel Pyramida / Hotel Expo or similar
Today we explore the Baroque jewel of Europe. Our local expert will take us on a guided city tour, include the most outstanding monuments, including Prague Castle, admission included. After that, we'll take a magnificent boat tour along the Vltava River. Free time in the afternoon to explore Prague. In the evening, we will enjoy some time in the historical city center, with an an opportunity to enjoy cuisines from around the world (own expense).
Prague
Our tour service ends directly after breakfast at the hotel.
Tips:

Airport drop-off service is not included in the display price. Private transfers may be purchased separately at check-out. Or you may contact one of our friendly customer service representatives, who will be more than happy to assist.
Pick-up Details / Transfers
Upon entering the arrivals hall at Vienna International Airport (VIE), a driver will be waiting to take you to the hotel.

Please contact the local operator prior to departure date to re-confirm transfer details.
Package Includes
Vienna International Airport (VIE) pick-up service
English-speaking guide
Travel by motorcoach
5-night hotel accommodations
5 breakfasts
Danube river cruise in Budapest
Vltava river cruise in Prague
Vienna, Budapest, and Prague city tour
Prague Castle entrance fees
Basic travel insurance
Package Excludes
Airport drop-off at the end of the tour
Lunch and dinner
Own-expense activities
Tips
Airport pick-up details will be confirmed after placing a booking. We strongly recommend booking your flight after the tour has been confirmed.
Alternatively, you may join the tour at the hotel on Day 1.
The tour leader will not be present during evening transfers to commercial districts in major cities. These transfers are included in your package, and give you the opportunity to dine in restaurants that cater to your dietary preferences, as well as the chance to explore the city further. You will be given about an hour of free time, after which the driver will take you back to the hotel for the evening. Please note that the driver may not be able to offer suggestions on where to find vegetarian or ethnic meals.
Each passenger is allowed a maximum of 30 kg for luggage. The local operator may refuse to accept excessively bulky luggage.
Please bring all valuable items with you at all times. Do not leave valuable items on the bus or at the hotel, attraction, or restaurant. Tours4Fun, local operators, drivers, and tour guides are not responsible for any loss or theft at any location.
This tour/activity is overseen by a select local operator in the region. Upon booking your tour or activity and after receiving confirmation, you will be issued an e-ticket detailing the local operator's name and contact information. If you require assistance finding a specific tour, please contact us for more information.
If any of the attractions are closed due to Covid-19, the guide will arrange the itinerary based on the actual situation on the tour date. Please understand. Thanks.
Pricing Info
Your reservation is always subject to confirmation by email, normally within one to two business days.
* Adult: 16 and older
* Child: 3-15 years of age (minimum one adult per child)
* Children below the age of 3 travel for free, provided they do not occupy a seat or bed.
* Prices for Single Occupancy apply when one person stays in one standard hotel room.
* Prices for Double/Triple Occupancy apply when two/three people stay in one standard hotel room respectively.
*The final tour rates already include possible booking fee, handling fee, and exchange rate loss.
Reservation Info
1.Immediately after submitting your reservation you will receive a Receipt of Reservation via email.

2. Within one to two business days of submitting your reservation you will receive a confirmation email from us. If you need to book an airline ticket, we recommend that you do so after you receive a confirmation of your tour reservation from us.

3. An E-Ticket will be sent to you via email as soon as details of your reservation are confirmed or your supporting information is received by us. We will provide you with all detailed information about your tour on the E-Ticket. Contact information for local tour provider will be included on E-Ticket for your convenience or re-confirmation purpose if re-confirmation is required.

4. Simply print your E-Ticket and present it with your valid photo ID on the day of your activity to your tour guide. Please remember E-Ticket is your proof of purchase.
Terms and Conditions
- Your purchase does not guarantee confirmation. Your purchase will initiate a reservation process. We will confirm with you via email within one to two business days.

- Prices may vary due to availability. We reserve the right to make price adjustment without prior notice.

- Local tour provider reserves the right to make modifications to tour arrangements including order of tour activities, hotel and its location if deemed necessary.
SATISFACTION
88%
2 Customer Reviews
Christopher Gross

05/18/2019

Verified Purchase

Great value, solid itinerary with lots of free time, great guide (Abdel was fantastic) and a perfect fit for my busy schedule

Anonymous

05/20/2018

Verified Purchase

Value for money. Great and fun tour
Edit Photo Title & Description
Loading……
We found 0 results matching your search
Question:
Hi just wanted to check the time of the pick up from the airport the first day so that I can arrange my flight time to Vienna
Answer:
Dear Zaman,

Thank you for your interest at Tours4fun.

We offer 24 hours complimentary pick up at the airport and we will base...
Question:
I am interested with this 6central Europe tour package prod code#3760-232732, any tour on august or first week of September?
Answer:
Dear Heidi,

Thank you for your interest in Tours4Fun.

The tour will depart every Fridays of the month including September.

To...
Questions previously answered may have different answers due to many reasons: season (date and year of travel), rates, availability, etc. Please check the Rewards4Fun Program FAQ for more information.
Cant find your answer? Ask us your question and we will respond within the next 24 hours.
Ask Us
5
Why Book with Tours4fun?
Best Price Guaranteed
Hand-picked Tours & Activities
24/7 Customer Support
Questions? 1-866-933-7368