5-Day Masai Mara & Lake Nakuru Safari
Product Code: 7168-484255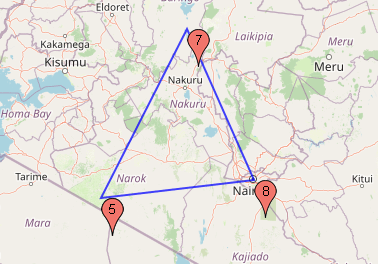 Highlights
• Stops to view the great rift valley escarpment
• An exciting boat ride at Lake Naivasha
• A guided walking safari at Crescent Island
• Views of Lake Elementaita
• View both black / white rhino species int he Rift Valley
• Other animals that you may see include Lion, warthog, Giraffe, Zebra and other plains game
Tour Type
Adventure/Activities
Experience:

Wildlife, Nature

Get up close and personal with nature on guided wildlife tours; Get in touch with Mother Earth
Tour Type:

Escorted

Tour director/guided escort is available from the beginning to the end of the vacation
Group Type:

Standard group

Tour with fellow travelers from all over the world
Activity Level:

Moderate

Designed for travelers in good health who are comfortable with light walking or hiking
Quality:

Camping

Each night you'll unroll your bedroll and sleep beneath the stars
Nairobi - Masai Mara
Hotel: Miti Mingi Tented Camp or similar
After breakfast, we pick you and drive to Masai Mara with stopover at the Great Rift Valley.

We continue driving on through Longonot and Suswa and on to the Western walls with another stopover at Narok for re-fuelling.

We have lunch before arriving in the Mara in time for evening game drive in the Mara popular for the Big five (Lions, Elephants, Leopards, Buffalo and Rhinos). The team returns to Camp late in the evening just in time for dinner.

A campfire gathering under the clear Africa's Sky follows after dinner and overnight at Camp.
Masai Mara full day
Hotel: Miti Mingi Tented Camp or similar
A full day is spent at the Masai Mara Game Reserve. Driving across the plains in search of the big cats (black manned lions, Cheetahs and leopards with picnic lunch served at the Mara River site. Vast herds of wildebeest and zebra wander across the Mara grasslands in huge numbers during this period of the annual migrations take place, when millions of wildebeest, zebra, and gazelle traverse the Mara plains landscape to feed on the rich new grass from the Serengeti.

You also have a chance to see other plain game like the Topi, hearbeast, Eland.

Dinner and overnight at Camp.
Masai Mara full day
Hotel: Miti Mingi Tented Camp or similar
Pre-breakfast game drive in search of nocturnal animals drive back to the Camp for breakfast. Spend the rest of the day in leisure followed in the afternoon by an optional nature walk or a visit to the Maasai Village (At extra cost of USD 20).

All meals will be provided at the camp at the Masai Mara.

Dinner and overnight at Camp.
Masai Mara - Nakuru
Hotel: Budget Hotel or similar
We will have an early morning game drive. It will be your final game drive in the Masai Mara before coming back for breakfast and packing for Nakuru. Arriving and checking in at Nakuru Hotel.
Nakuru - Nairobi
In Lake Nakuru National Park we proceed for an extensive game viewing in search of cats in the among the 'Yellow fever' acacia trees which are leopards favorite and also on search of Rhino. Nakuru is the home to the White rhinos and has tens of Black rhinos too.

Lake Nakuru National Park known for its millions of flamingos and other water birds like the Pelicans and Cormorants. No wonder Americas finest photographer once described by Roger Tory Peterson as the "greatest bird spectacle in the world" for its seasonally large concentrations of greater and lesser flamingos and Pelicans, Lake Nakuru boasts some 600-bird species. It is also a designated rhino sanctuary, as well as home to other rare wildlife species.

After lunch leave for Nairobi.
Package Includes
All transport in a safari van in Kenya and photography and game drive
Services of an experienced driver/guide
3 meals in a day (Breakfast, lunch and dinner)
All Accommodation mentioned in the program
Government taxes, tolls and levy's
Pick up and drop off from the Jomo Kenyatta International Airport
All park entrance fees
Bottled water
Package Excludes
Visa fees
Your personal Spending money
Masai Village
Gratitude's (tips to guides/porters)
Cancellation made within:
Cancellation made more than 25 days prior to departure, Refund 100% of purchase amount
Cancellation made within 16 days to 24 days prior to departure, Refund 75% of purchase amount
Cancellation made within 7 days to 15 days prior to departure, Refund 50% of purchase amount
Cancellation made within 6 days prior to departure, No refund
We can pick you from the airport or your hotel location.
Depending on your arrival time, your hotel room may not be available until the afternoon. Most hotels allow check-in between 1:00pm-3:00pm, however some charge a fee for early check-in. Please check at the hotel desk to see if you may store your luggage at the hotel if you wish to explore the city on your own before check-in.
This tour/activity is overseen by a select local operator in the region. Upon booking your tour or activity and after receiving confirmation, you will be issued an e-ticket detailing the local operator's name and contact information. If you require assistance finding a specific tour, please contact us for more information.
If any of the attractions are closed due to Covid-19, the guide will arrange the itinerary based on the actual situation on the tour date. Please understand. Thanks.
Pricing Info
Your reservation is always subject to confirmation by email, normally within one to two business days.
* You may request for a single private accommodation
* Children between 3 to 11 years pay 50% of adult price
* Children occupying own room pay 75% of adult rate
* Single room supplement will apply in all categories except on safaris taken during the low season

*The final tour rates already include possible booking fee, handling fee, and exchange rate loss.
Reservation Info
1.Immediately after submitting your reservation you will receive a Receipt of Reservation via email.

2. Within one to two business days of submitting your reservation you will receive a confirmation email from us. If you need to book an airline ticket, we recommend that you do so after you receive a confirmation of your tour reservation from us.

3. An E-Ticket will be sent to you via email as soon as details of your reservation are confirmed or your supporting information is received by us. We will provide you with all detailed information about your tour on the E-Ticket. Contact information for local tour provider will be included on E-Ticket for your convenience or re-confirmation purpose if re-confirmation is required.

4. Simply print your E-Ticket and present it with your valid photo ID on the day of your activity to your tour guide. Please remember E-Ticket is your proof of purchase.
Terms and Conditions
- Your purchase does not guarantee confirmation. Your purchase will initiate a reservation process. We will confirm with you via email within one to two business days.

- Prices may vary due to availability. We reserve the right to make price adjustment without prior notice.

- Local tour provider reserves the right to make modifications to tour arrangements including order of tour activities, hotel and its location if deemed necessary.
Edit Photo Title & Description
Loading……
We found 0 results matching your search
Questions previously answered may have different answers due to many reasons: season (date and year of travel), rates, availability, etc. Please check the Rewards4Fun Program FAQ for more information.
Cant find your answer? Ask us your question and we will respond within the next 24 hours.
Ask Us
Why Book with Tours4fun?
Best Price Guaranteed
Hand-picked Tours & Activities
24/7 Customer Support
Questions? 1-866-933-7368