5-Day Morocco Tour Package from Malaga: Casablanca | Marrakesh | Fez
Product Code: 2554-50458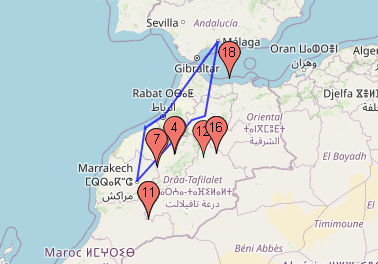 Highlights
• Rabat
• Mausoleum of Mohammed V
• Hassan Tower
• Casablanca
• United Nations Square
• Hassan II Mosque
• Marrakesh
• Koutoubia Tower
• Saadian Tombs
• Jamaa el Fna Square
• Meknes
• Bab Al Mansour Gate
• Fez
• Seven Gates of the Royal Palace
• Gate of Bab Bou Jelous
Experience:

UNESCO, Cultural, Historical

Visit locations designated as World Heritage Sites by the United Nations; Learn about local culture with in-depth tours and activities; Encounter rich historical landmarks with expert guides
Tour Type:

Guided

Multiple local tour guides/drivers available throughout your tour/activity
Group Type:

Standard group

Tour with fellow travelers from all over the world
Activity Level:

Moderate

Designed for travelers in good health who are comfortable with light walking or hiking
Quality:

Value

Travel with professional guides, enjoy more time at attractions and/or stay at comfortable accommodations.
Malaga - Tarifa - Tangier - Rabat - Casablanca
Hotel: Mogador Marina (tourist class) / Grand Mogador City Center (first class) or similar
We'll drive along the picturesque tourist route of Costa del Sol passing through the gorgeous destinations of Marbella and Puerto Banus to arrive in Tarifa. We'll then board a ferry to cross the Strait of Gibraltar to reach Africa.

After arriving in Tangier, we'll disembark, clear customs and drive southward via Larache to Rabat. This diplomatic and administrative capital is the official residence of the King Mohamed VI.

We'll go on a Rabat City Tour visiting the Royal Palace (outside), Mausoleum of Mohammed V and the unfinished Hassan Tower. These sites are important examples of Almohade architecture.

Afterwards, we'll head to Casablanca, a city made famous by the classic Humphrey Bogart and Ingrid Bergman 1942 romance film "Casablanca."

You'll have time to yourself to explore Morocco's largest city!

We'll then have dinner at the hotel.
Tips:

We'll meet 7:00am at Hotel AC Malaga Palacio in Malaga. Additionally, there are different pick-up locations along the Costa del Sol. Please leave your detailed location when booking so we can provide the closest pick-up location and timing.
Casablanca - Marrakesh
Hotel: Mogador Kasbah / Zalagh Kasbah (tourist class) / Les jardins d'Agdal / Palm Plaza (first class) or similar
After having breakfast at the hotel, we'll take a panoramic city tour of Casablanca showing you Anfa Boulevard, United Nations Square and Hassan II Mosque (Outside).

We'll then travel to Marrakesh eating lunch en route. This Moroccan city is located within an extensive oasis between the Mid-Atlas Mountains and the pre-desertic area.

We'll then embark on a city sightseeing tour to see Koutoubia Tower, Saadian Tombs and El Bahia Palace. We'll next tour the medina, souks and the magic Jamaa el Fna Square, which is packed with fortune tellers, snake tamers, acrobats and dancers.

There will be an optional dinner with show at "Fantasia Chez Ali" available.
Marrakesh - Meknes - Fez
Hotel: Menzeh Zalagh / Sofia (tourist class) / Ramada Zalagh / Par Palace (first class) / or similar
After breakfast, we'll head northeast to Meknes - an old walled Imperial City located in the heart of the Mid Atlas. Here, we'll take a panoramic city tour and stop to admire the great Bab Al Mansour Gate. It's Morocco's most beautiful gate and the most well known monument in Meknes.

The tour will then travel to Fez, another one of the Imperial Cities. Its University of al-Karaouine is the largest Islamic sanctuary in Morocco.

We'll have dinner at the hotel.
Fez
Hotel: Menzeh Zalagh / Sofia (tourist class) / Ramada Zalagh / Par Palace (first class) or similar
During the morning, we'll see more of Fez including landmarks such as Seven Gates of the Royal Palace, Jewish Quarter or Mellah and Gate of Bab Bou Jelous. We'll also take a walking tour of the Medina or Old City, declared UNESCO World Heritage Site.

Afterwards, you'll have the afternoon free to further explore Fez. Breakfast and lunch will be provided at the hotel.

There will be an optional dinner and show offered at an additional cost.
Fez - Tangier - Tarifa - Costa del Sol
We'll have breakfast at the hotel and then head back to Tangier. We'll transfer to the pier to board the ferry to return across the Strait of Gibraltar back to Spain.

Once in Spain, we'll drive return to the Costa del Sol.

5-days tour is too long? We also have other tours to choose from. Check with Tours4Fun's 3-Day Morocco Tour Package see the best Morocco has to offer in 3 days as we tour the great cities of Rabat, Meknes, and Fez!
Tips:

Normally the tour finishes between 6:00pm - 7:00pm. However, as the tour is operated by bus, it may be delayed due to bad weather conditions, traffic jams or other issues.

We recommend that you to book a late flight at the end of the tour, or stay an extra night in the city to depart the following morning.
| | | |
| --- | --- | --- |
| | Please note that order of day-to-day itinerary is adjustable depending on tour start day. | |
Package Includes
Panoramic tours of Rabat, Casablanca, Marrakesh, Meknes, and Fez
Tour guide
Travel by air-conditioned motorcoach
4-night hotel accommodations
4 breakfasts, 4 dinners
Package Excludes
Airfare
Airport transfers
Additional meals and beverages
Tips
Personal expenses
Optional activities
Passport details are required at least 72 hours in advance of scheduled departure.
You must go through customs control with your own luggage.
Each passenger is limited to one piece of luggage not to exceed 30 kilograms.
The Morocco portion can be modified without substancial variation of services.
This tour/activity is overseen by a select local operator in the region. Upon booking your tour or activity and after receiving confirmation, you will be issued an e-ticket detailing the local operator's name and contact information. If you require assistance finding a specific tour, please contact us for more information.
If any of the attractions are closed due to Covid-19, the guide will arrange the itinerary based on the actual situation on the tour date. Please understand. Thanks.
Pricing Info
Your reservation is always subject to confirmation by email, normally within one to two business days.
* Child: 4 to 7 years of age
* Children under 4 years of age ride for free provided they share a twin room with 2 adults (one child per room maximum) and do not occupy a seat on the bus.
* Prices for Single Occupancy apply when one person stays in one standard hotel room.
* Prices for Double/Triple Occupancy apply when two/three people stay in one standard hotel room respectively.
* Triple price does not guarantee a third bed in the room since each room is equipped with two beds. Please check the availability at the time of check-in.
* Prices may be higher than usual during holidays and select weekends.
* Limitation for luggage: only one luggage per person limited to a weight of 30 kg.
* Tour prices are based on EUR and are converted into USD. Prices will change day to day, due to the currency exchange rates. Tours booked and paid for will be charged at the current rate at which the tour price is shown. We will not refund any price differences, should prices drop for the tour. Tours will be subject to Cancellation Fees, should any changes be made for a reservation.
*The final tour rates already include possible booking fee, handling fee, and exchange rate loss.
Reservation Info
1.Immediately after submitting your reservation you will receive a Receipt of Reservation via email.

2. Within one to two business days of submitting your reservation you will receive a confirmation email from us. If you need to book an airline ticket, we recommend that you do so after you receive a confirmation of your tour reservation from us.

3. An E-Ticket will be sent to you via email as soon as details of your reservation are confirmed or your supporting information is received by us. We will provide you with all detailed information about your tour on the E-Ticket. Contact information for local tour provider will be included on E-Ticket for your convenience or re-confirmation purpose if re-confirmation is required.

4. Simply print your E-Ticket and present it with your valid photo ID on the day of your activity to your tour guide. Please remember E-Ticket is your proof of purchase.
Terms and Conditions
- Your purchase does not guarantee confirmation. Your purchase will initiate a reservation process. We will confirm with you via email within one to two business days.

- Prices may vary due to availability. We reserve the right to make price adjustment without prior notice.

- Local tour provider reserves the right to make modifications to tour arrangements including order of tour activities, hotel and its location if deemed necessary.
SATISFACTION
76%
3 Customer Reviews
Anonymous

04/16/2019

Verified Purchase

I have a problem with hotel in Casablanca where toilet light was not working,I told them that it is bigger issue than just change light bulb but they insist to try ,at last I have to move to new room, but I lost 1.5h of my rested time.In Fe...s,the souk tour was too much on the tour guide commission.The shops that they insisted are too many,very tried. Read full review

Max

04/12/2018

Verified Purchase

Just ok

We were somewhat disappointed with the tour guide because he only took us to shops "where we could find the best deals" ie the overpriced and tourist traps - carpet and bronze shops. The hotels we stayed in were in good location and qualit...y for what we paid for. Overall the tour was ok and we saw quite a lot for just short period of time. Read full review

Anonymous

04/23/2017

Verified Purchase

Loved the tour! It was a lot of fun. The hotel accommodation (rated 5 star) the last 2 nights were not good. Internet was slow and worst food of the trip. The tour guides in Marrakech and Fez made up for it. It would have been nice to know ...the iterinary for the next 5 days instead of just finding out the night before. Expect a lot of time on the bus! Read full review
Edit Photo Title & Description
Loading……

We found 0 results matching your search
Questions previously answered may have different answers due to many reasons: season (date and year of travel), rates, availability, etc. Please check the Rewards4Fun Program FAQ for more information.
Cant find your answer? Ask us your question and we will respond within the next 24 hours.
Ask Us
4
Why Book with Tours4fun?
Best Price Guaranteed
Hand-picked Tours & Activities
24/7 Customer Support
Questions? 1-866-933-7368