3-Day Vancouver and Victoria Tour from Seattle
Product Code: 2-663531
Free PCR Test
Enter Canada: Provide proof of vaccine and PCR test
Enter USA by flight: Provide proof of vaccine and PCR test (PCR test can be arranged with extra cost)
Enter USA from land border: Provide proof of vaccine
Free PCR nucleic acid test can be provided to our guests (U.S. residents only) before or after the tour in Boston, New York, Washington D.C., Atlanta, Orlando, Miami, Chicago, Houston, Seattle, Los Angeles and San Francisco.
Guests only need to bring the U.S. driver's license or state government ID and go to the provided address for sampling. The tips of $5.00/person is required.

Departure Guranteed
The minimum number to operate the tour is 2 passengers.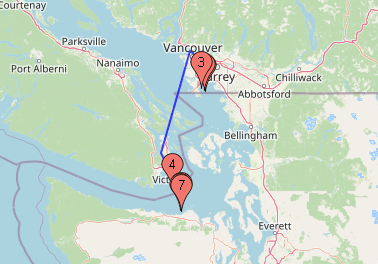 Group Type:

Standard group

Tour with fellow travelers from all over the world
Seattle - Vancouver
Hotel: Richmond area or similar
Vancouver is a major city in western Canada, located in the Lower Mainland region of British Columbia. Vancouver is consistently named as one of the top five worldwide cities for livability and quality of life.
Itinerary:
Seattle → Gastown Steam Clock (30 mins) → Lunch at China Town (60 mins) → Canada Place (40 mins, FlyOver Canada is optional for 10 mins) → Stanley park (120 mins) 

Gastown Steam Clock
A working steam clock, one of only a few in the world, located in Vancouver's Victorian Gastown. Every quarter-hour, the two-ton Steam Clock shows off a bit, whistling and shooting steam from its five whistles in its version of the Westminster Chime. On the hour it marks each hour with a toot from each whistle. The clock is a key tourists destination in Vancouver.

Vancouver Chinatown
A Community established over a century ago, Vancouver Chinatown has been a place of culture and is known for its buzzing food scene. Chinatown's towering entrance, Millennium Gate is the landmark most visitors look for. 

Canada Place
Canada Place is a building situated on the Burrard Inlet waterfront of Vancouver, British Columbia, Canada. It is the home of the Vancouver Convention Centre, the Pan Pacific Vancouver Hotel, Vancouver's World Trade Centre, and the virtual flight ride FlyOver Canada. The building's exterior is covered by fabric roofs resembling sails. It is also the main cruise ship passenger terminal for the region, where cruises to Alaska originate. 

FlyOver Canada
FlyOver Canada is a tourist attraction located at Canada Place in downtown Vancouver. The ride takes guests on a virtual flight across Canada, you will see include Rocky Mountains, Newfoundland's icebergs and Niagara Falls. The whole journey takes you from the east coast of Canada to the west bank to see the beautiful natural landscape and city. It will give you an unforgettable and complexity experience. 

Stanley park
Stanley Park has a long history and was one of the first areas to be explored in the city. Most of the manmade structures present in the park were built between 1911 and 1937 under the influence of then superintendent W.S. Rawlings. Additional attractions, such as a polar bear exhibit, aquarium, and miniature train, were added in the post-war period. Stanley Park was named "top park in the entire world" by TripAdvisor. You also can see the Lions Gate Bridge and the Five Sails Square. The other side is North Vancouver, where you can see the Vancouver skyline.
Admission Fees
| Activity | Price | Additional Information |
| --- | --- | --- |
| FlyOver Canada 4D Movie | Adult:CAD$25.00; Senior:CAD$25.00; Youth (13-16):CAD$20.00; Child (12yrs or Minimum height higher than 40inch/102cm):CAD$16.00; | Exclude 5%GST tax |
All mandatory fees must be paid in cash to the tour guide and tickets cannot be pre-purchased separatedly.
Any optional activities you wish to join must be paid to your tour guide in cash.
Victoria 1-Day Tour
Hotel: Richmond area or similar
Victoria is the capital city of the Canadian province of British Columbia, on the southern tip of Vancouver Island off Canada's Pacific coast. Named for Queen Victoria, the city is one of the oldest in the Pacific Northwest. The city has retained a large number of its historic buildings, in particular its most famous landmarks, the Parliament Buildings. The city's Chinatown is the second oldest in North America after San Francisco's.
Itinerary:
BC ferry (90 mins, include ferry ticket) → The Butchart Gardens (60 mins, include ticket) → Chinatown Victoria & Lunch (80 mins) → The Parliament Buildings (60 mins) → Victoria Mile Zero Monument (20 mins) → BC ferry (90 mins, include ferry ticket) → Vancouver

BC ferry
From Vancouver to Victoria, BC Ferry is the main transportation, sailing for about 1 hour and 30 minutes. There are many people taking back and forward between Vancouver and Victoria, and transport the vehicles together, so it will be 30 minutes wait before getting on board after the ferry arriving at the port. The ferries are made in Germany, it can accommodate about 400 cars. The scenery along the way is beautiful, looking at the surrounding island, and seagulls flying around the mast, luck can also see the dolphins too.

The Butchart Gardens
The Butchart Gardens is constituted by the different group of floral display gardens. The gardens receive over a million visitors each year. The gardens were built from 1904, after several generations of hard work, it has been delighted been designated a National Historic Site. In Spring, countless tulips, daffodils, and hyacinths will give you an unforgettable of fragrances and colors. At the end of May, the rose garden will become the protagonist of the summer garden. With the open stage and music performance, in July and August, the Garden will be the nightly fireworks and enjoy the breathtaking colorful water fountain. 

Chinatown Victoria
The Chinatown in Victoria, British Columbia is the oldest Chinatown in Canada and the second oldest in North America after San Francisco's. Victoria's Chinatown is now surrounded by cultural, entertainment venues as well as being a venue itself. Chinatown is now conveniently just minutes away from other sites of interests such as the Save-On-Foods Memorial Centre, Bay Centre, Empress Hotel, Market Square, and others.

The Parliament Buildings
The British Columbia Parliament Buildings are located in Victoria, British Columbia, Canada, and are home to the Legislative Assembly of British Columbia. The Neo-baroque buildings face north on Belleville Street facing the Inner Harbour and diagonally across from The Empress Hotel. A statue of Queen Victoria stands on the front lawn as well the British Columbia Legislature Cenotaph commemorating the province's World War I, World War II, Korean War and Afghanistan War dead. Atop the central dome is a gold-covered statue of Captain George Vancouver. Free guided tours of the facility are offered year-round.

Victoria Mile Zero Monument
Located in picturesque Beacon Hill Park in British Columbia's capital, Mile 0 is one of the symbolic starting points of the Trans-Canada Highway on the Pacific Coast. The highway, conceived in the late 1940s and constructed between 1950 and 1971, was the longest uninterrupted highway in the world at the time of its completion. Spanning a whopping 4,860 miles (7,821 kilometers), it runs across all 10 of Canada's provinces, crossing the likes of the Rocky Mountains and the wide-open prairies of central Canada. 
Vancouver free day - Seattle
Today, you will have a free day in Vancouver. Then we will back to Seattle.
| | | |
| --- | --- | --- |
| | Please note that order of day-to-day itinerary is adjustable depending on tour start day. | |
Search for your nearest pickup point
Package Includes
2-night hotel accommodations
Transportation: The type of vehicle used will base on the number of guests on the day
Professional tour guide
Breakfast
Admission ticket for BC Ferry and The Butchart Gardens
Package Excludes
Airfare and the cost of other transportation between your home and pick-up location
All personal expenses, additional hotel services and meals
Service Fee for tour guide/bus driver (min. CAD$12.00/day per person)
Optional tours (prices vary from season to season).
Cancellation & Amendment Policy:
* 17 and more days prior to departure date, 10% penalty fee;
* 10-16days prior to departure date, 50% penalty fee;
* 0-9 days prior to departure date, no refund.
All bus tour participants (12 years old and above) need to present the vaccine card or photo of vaccine card + ID to join the tour.
This product is a destination tour. Please bring your own valid tourist visa.
Service fees are paid in Canadian dollars (CAD) directly to the tour guide. Please prepare a certain amount of CAD cash.
Due to the peak season and traffic congestion, the actual visit time of all attractions are subject to the traffic conditions on the day of the trip.
Due to the tight availability of hotel room during the peak season, the hotel sales rates are higher in May-October, so additional hotel surcharges may apply to customers who travel from May to October.
Please note that each customer can only take one standard check-in luggage and one carry-on bag. Extra luggage is subject to a surcharge of CAD$35.00 per piece.
Service fees are paid in Canadian dollars (CAD) directly to the tour guide. Please prepare a certain amount of CAD cash.
We strongly suggest you to book the activities in advance due to the tight availability. No reservation can be accepted on tour.
For more assured travel plans during the holiday season, we suggest that you book your tour at least one month prior to the desired departure date.
In the event of overbooking during peak season, we will arrange for you to stay in a hotel of equal or near-equal standards of service. We apologize in advance for any inconvenience this may cause.
Placing an order on Tours4Fun does not guarantee confirmation. Tours4fun usually confirms a booking within 1-2 days.
We recommend that you book your flight after you receive confirmation. Tours4Fun is not responsible for the cost of cancelled flights booked prematurely.
Please arrive at the pick-up point at least 10 minutes early.
Visa is not required for U.S. citizens. However, please bring your Photo I.D and proof of citizenship (U.S. birth certificate or naturalization certificate) for re-entry to the United States. A passport is highly recommended. Children, ages 18 and under only require a birth certificate. If you are not an American citizen or permanent resident, please bring your passport, I-94 card or resident alien card. Due to heightened security at the border, additional paperwork may be required for visitors from some countries. Please be aware of the status of your country, origin or check with the local immigration office to ensure that multiple-entry into the U.S. is allowed. This will avoid unnecessary delays. Should any person be detained upon re-entry to the U.S., we will be unable to wait while the additional paperwork is filed. Additional charges may apply for transportation.

Please Note:
1. Guests are not allowed to use a CITY PASS and admission ticket purchased by themselves to join the sightseeing attractions included in this tour.
2. Guests who do use a CITY PASS or admission ticket purchased by themselves, will not be offered the transportation service for that day, and will possible need to pay a penalty fee. Please consult your tour guide for details.
Language: This tour is escorted by a professional bilingual tour guide and/or driver guide (English/Chinese). Tours and/or languages may be combined to operate this tour depending on the number of passengers who have booked a particular departure.
Bus Arrangement: Passengers on the same reservation will be arranged on the same bus unless stated otherwise. If you wish to be on the same bus as another party /an existing reservation, please note your request with the reservation number in the comment section on the checkout page or notify us at least 24 hours prior to tour departure.
Tours4Fun cooperates with top local area tour operators and ensures the best quality of services to all travelers. We provide tour coaches that all are insured with a liability insurance coverage from $5,000,000 to $10,000,000 to make sure that your trips are safer and more enjoyable.
The time we mentioned in the itinerary is for reference only. Please refer to your guide on tour for the actual arrangement. The visiting order and duration might be changed according to actual and practical situation for better service.
This tour/activity is overseen by a select local operator in the region. Upon booking your tour or activity and after receiving confirmation, you will be issued an e-ticket detailing the local operator's name and contact information. If you require assistance finding a specific tour, please contact us for more information.
If any of the attractions are closed due to Covid-19, the guide will arrange the itinerary based on the actual situation on the tour date. Please understand. Thanks.
Pricing Info
Your reservation is always subject to confirmation by email, normally within one to two business days.
* Price for Single Occupancy applies when one person stays in one standard hotel room.
* Price for Double/Triple/Quadruple Occupancy applies when two/three/four people stay in one standard hotel room respectively.
* Triple/Quadruple price does not guarantee a third/fourth bed in the room since each room is equipped with 2 beds. Please check the availability at the time of check-in.
* Maximum room capacity: 4 people including adult and child/infant.
*Additional fees may apply for travelers under 2 years of age. Please ensure you inform us when booking if you are travelling with infants 2 years or younger by placing the number of infants and their dates of birth in the comments section when booking online.
*The final tour rates already include possible booking fee, handling fee, and exchange rate loss.
Reservation Info
1.Immediately after submitting your reservation you will receive a Receipt of Reservation via email.

2. Within one to two business days of submitting your reservation you will receive a confirmation email from us. If you need to book an airline ticket, we recommend that you do so after you receive a confirmation of your tour reservation from us.

3. An E-Ticket will be sent to you via email as soon as details of your reservation are confirmed or your supporting information is received by us. We will provide you with all detailed information about your tour on the E-Ticket. Contact information for local tour provider will be included on E-Ticket for your convenience or re-confirmation purpose if re-confirmation is required.

4. Simply print your E-Ticket and present it with your valid photo ID on the day of your activity to your tour guide. Please remember E-Ticket is your proof of purchase.
Terms and Conditions
- Your purchase does not guarantee confirmation. Your purchase will initiate a reservation process. We will confirm with you via email within one to two business days.

- Prices may vary due to availability. We reserve the right to make price adjustment without prior notice.

- Local tour provider reserves the right to make modifications to tour arrangements including order of tour activities, hotel and its location if deemed necessary.
Edit Photo Title & Description
Loading……
We found 0 results matching your search
Questions previously answered may have different answers due to many reasons: season (date and year of travel), rates, availability, etc. Please check the Rewards4Fun Program FAQ for more information.
Cant find your answer? Ask us your question and we will respond within the next 24 hours.
Ask Us
Why Book with Tours4fun?
Best Price Guaranteed
Hand-picked Tours & Activities
24/7 Customer Support
Questions? 1-866-933-7368