14-Day Complete Vietnam & Cambodia Tour From Hanoi - Halong Bay - Sapa - Saigon To Phnom Penh & Angkok Wat
Product Code: 5713-453403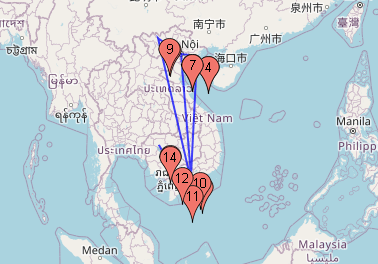 Highlights
• Explore beautiful Vietnam from Hanoi
• Cruise through Halong Bay
• Trekking in Sapa
• Explore Saigon and Mekong Delta
• Head to Cambodia to discover the Angkor Wat which is a temple complex in Cambodia and the largest religious monument in the world, on a site measuring 162.6 hectares
HA NOI ARRIVAL (FREE 1 DATA SIM CARD AND ARTINUS 3D ART MUSEUM)
Upon arrival, you will be picked up from Noi Bai airport (in Ha Noi) and you will be taken into the heart of the city which is a 40-minute ride. You will be free to discover many ancient and beautiful places such as the Old Quarter, Hoan Kiem Lake and Dong Xuan Market.

Evening: You also have opportunity to enjoy the water-puppet show and go wandering to see the landscapes. You can try to go out by Cyclo, a traditional transportation of Vietnam.

Overnight in Ha Noi
HA NOI - HA LONG (Meal: B, L, D)
8:30 AM
– Our guide will meet you at your hotel using the shuttle bus or private car pick up.
– Enjoy the peaceful scenery as we travel through the countryside, farmlands and Red River delta.
– Take plenty of pictures. Have a comfortable break. The time from Hanoi to Halong bay is approximately 3 ½ hours.

12 – 12:30 noon approx
– Arrive in Tuan Chau Marina. Welcome aboard the cruise. Meet the captain and crew and join us for welcome cocktails as we tell you about the activities onboard.
– Check into your cabin. Time to refresh and unwind.
– Set sail as lunch is prepared by our chef.
– Join us for a relaxing lunch in the restaurant or on the outdoor dining area. Enjoy the stunning views of the bay and its dramatic limestone islands as we sail through the calm waters.

Afternoon
– While we make our way to the amazing Van Gia fishing village, relax on the sundeck and watch the world go by or take an afternoon nap in your cabin. In mid afternoon, we'll arrive at Van Gia floating fishing village.
– Drop anchor
– Our guide will give you some information and interesting facts about this fascinating village and its local community.
– Disembark and you can choose which options when you visit the village by kayak or local bamboo boat to visit the village. They will be your guides through their fishing village where you can meet the locals and see firsthand what life is like living on the water. We are proud of our working partnership with this community.
– Our cruise will take you to the Soi Sim natural beach for swimming and snorkeling. In there, you can enjoy our interesting games such as football and basketball. While cruising through the waters, enjoy the sunset party with fruits and wine as our complimentary food and drink.
– Back on board, we head towards the sleeping area.

Early evening
– Take an opportunity to refresh and then join friends for a pre-dinner drink in the bar.
– Dinner is served in the restaurant or at the outdoor dining area if the weather permits, which is a gastronomic delight. After dinner, unwind in the bar where there is a selection of books, magazines and board games or watch a movie on our plasma TV. You can also join some of our team to go cuttle fishing at night.

Accommodation and overnight on boat
HA LONG - HA NOI (Meal: B, L)
06:30 am
– For the early risers, join us for a Tai Chi session on the sun deck. Tai chi helps focus the mind and condition the body and there is no better environment to practice this than amongst the limestone peaks and islands.
– Breakfast is served.
After breakfast, we sail through the waters and pass by a number of caves and we drop anchor at Surprising (Sung Sot) Cave.
– Disembark and visit Surprise Cave located on Bo Hon Island. It is one of the widest grottoes in Ha Long Bay with thousands of stalactites and stalagmites.
09:30 am
We board the cruise again. Take time to refresh and relax before checking out. Bags can be left in the luggage store. You will join our short class of cooking demonstration and learn how to make spring rolls before an early lunch is served.

12 noon
Return to the shore and disembark from the cruise as our crew say farewell. Transfer to a minibus or private car and return to Hanoi. Arrival back at your hotel at approximately 16:30/17:00.

Overnight in HaNoi
HA NOI CITY - TRAIN TO SAPA (Meal: B, L)
In the morning:
07:30 - 08:30: Our bus & tour guide will pick you up at the hotel in Ha Noi old quarter depart to Hanoi city tour full day.
09:00: Visiting first place named Tran Quoc pagoda on the West Lake the oldest pagoda in Vietnam.
09:30: Visit the Ho Chi Minh Mausoleum and Museum to explore the architectural and historical aspects of Uncle Ho's final resting-place. Just next door is Ho Chi Minh's house on stilts and lying to one side of the Mausoleum is the One-Pillar Pagoda which was founded by King Ly Thai To in 1049 - the structure has become an important symbol for the people of Hanoi.
11:00: Visit the Bat Trang Pottery Village
In the afternoon:
13:00: Bus takes you to a local restaurant in Hanoi Old Quarter, have a rest and enjoy the lunch.
14:00: Visit Temple of Literature, the most famous temple situated in Hanoi, also functioned as Vietnam's first university. It was first constructed in 1070 under King Ly Nhan Tong and dedicated to Confucius, sages and scholars. A vast structure that has existed to present day.
15:30: Drive to legendary Hoan Kiem Lake, visit Ngoc Son Temple dedicated to Van Xuong saint and former general commander Tran Hung Dao for his struggle against Mongolians. You also see the beautiful Vietnamese and French architecture around the lake.
16:00: Arrive back to your hotel. Tour ends !

Leave for Hanoi and take a shower at your hotel in Hanoi.
Until 20:00 pm: Our guide will pick up you at your hotel for boarding the train to travel Lao Cai.
SAPA TOUR (Meal: B, L, D)
(Lao Cai-Sapa- Lao Chai-Ta Van village)
5.00: We will arrive at Lao Cai Train station in the early morning. Your tour guide will pick you up and take you for 01hr drive to Sapa.
6.00: Leave your luggage in your hotel. Then, you have a good time to enjoy breakfast in a local restaurant nearby. Take a leisurely walk down the town to enjoy fresh air and make friends with the friendly locals.
9.30: We start the tour to Lao Chai and Ta Van villages down in Muong Hoa valley. From there, we will see the fantastic scenes of the beautiful valleys towards Fansipan – the highest peak of Vietnam and Indochina. In addition, you also have a change to go through the villages of Black H'mong ethnic minority to learn the way of weaving and embroidering their clothes. Have a break in a local restaurant for lunch then keep going down to enjoy immeasurable rice paddy fields and continue going into the village where the Dzay ethnic people lives --the Ta Chan village.
15.30: You will be picked up by our car to return Sapa for checking-in. The rest of the day, you will be leisure to explore the town (Dragon Mount, Orchid garden, the market etc.)

Overnight in Sapa
SAPA TOUR - TRAIN BACK HA NOI (Meal: B, L, D)
09:30: After having breakfast in the hotel, we will depart to visit Cat Cat and Sin Chai villages. From there, you will surely trekking through lush rice terraces towards villages and learn the experiences of the Black H'mong people, know about their daily life and traditional culture. Then, we will come back to the hotel.
14.00: We continue taking a drive to Ta Phin village (12km from Sapa) where the Red Dzao people lived to get more helpful experiences about their culture, custom and even their daily life. Moreover, you also have the chance to buy woven and textile brocades which are completely made by hand by the local people. After that, you will have the chance to come to one of the local family to experience the true life of the Red Dzao.
16.00: You come back to Sapa for a shower then you will proceed to Lao Cai city. Your dinner will be served in a restaurant which is close to the railway station. Finally, we will board the night train to return to Hanoi.
HA NOI - HO CHI MINH CITY flight
05:00 am: The train will arrive at Hanoi in the early morning. The Vietnam Adventure Tours staff will pick you up at train station and transfer you to the airport. You'll have breakfast by yourself at the airport.
08:30 am: Take the flight from Ha Noi to Ho Chi Minh city.
10:30 am: Our car will pick you up at the airport and take you to the hotel. After checking in at the hotel, you have free time to relax or you can go sightseeing in Ho Chi Minh City. Explore places like the Ben Thanh Market, Central Post Office, and Notre Dame Cathedral.

Overnight in Ho Chi Minh city
CU CHI TUNNEL - NIGHT LIFE HO CHI MINH CITY (Meal: B, D)
8:30 am: We depart from Ho Chi Minh City to Cu Chi Tunnels for 60km from Ho Chi Minh city. Cu Chi is now considered a heroic district for its role in the anti – American war in Vietnam. It is legendary for its tunnels system of over 220 km and is a popular spot for both Vietnamese and foreigner.
The peacefully rural rice paddy scenery contains ducks and water buffaloes swimming in the rivers along the side of the road. You will find it hard to imagine the destruction, damage and defoliation all over the area, caused by bombing and mines when Cu Chi was "A Free Target Zone." The remnants you will see that Cu Chi still has her evidence to prove the fierce battleground that took place there. Ever wonder what it feels like to fire an AK-47? Visit Cu chi tunnels, you have a chance to find out!

03:00 pm: The tour will finish at our company.
6:00 pm: We depart by cycle which will take you around the city and then go to the Water Puppet Theater. Enjoy the Water Puppet Show at the theater.

Water Puppetry – part of Vietnam's Cultural Heritage. A living portrait of Vietnam's history and culture. Watching the Vietnamese Water Puppetry is also the best way to discover the history and traditional cultural life of Vietnamese people. This program has been presented in various international festivals and carried our cultural exchanges activities with other countries.

After the show, you will together take the cycle or car to Bach Dang riverside, have a look before going to the ship. Take some pictures with cruise. Then we start boarding one of the ships: Bonsai, Indochina Junk and Ben Nghe Cruise. The ship leaves Bach Dang port and leisurely cruises around Saigon River. Dinner will be served on board while tourists enjoy the colorful view of Saigon riverside by night. We can also experience Southern Vietnamese fork music, dance with fire by fire dancers, or sing together while listening to live music.

09:00 pm: After dinner, we will send you back to your hotel.

Overnight in Ho Chi Minh city
MEKONG DELTA (Meal: B, L)
Get a chance to taste the real Vietnam and let the splendid views cover your senses. This trip allows you to visit the local factories and see how local products are made. Also, you will meet the friendly local people and have a lot of wonderful experiences on land and at the river while watching the floating fish market and fish farm. Let's discover a hard-working land with traditional people, which will let you appreciate life a bit more!
▪ 08:00 am: Our bus will pick you up at your hotel to take a 2-hour ride to Tien Giang province (roughly 75 km west of Sai Gon ) followed by a smooth one and half hour motorboat ride passing rice fields and stopping over National Highway 1 and leads visitors to the beautiful rural district of Trung Luong. The bus stops at Cao Dai temple in the town of Ben Luc for taking pictures.
Upon arrival at My Tho City, cross the Tien River by motorboat on the upper part of the Mekong River to see the fish market and visit the floating fish farm. Enjoy the view of Dragon, Phoenix, Unicorn, and Turtle islands as well. Cruise along small creeks through Mekong River estuaries to Rach Xep natural canal, which is fully covered with water coconuts. Visit orchards and bee farms to taste natural honey and honey wine. Enjoy!

Visit old houses and see local people made hand working coconut tree.
Take a walk around the fruit garden and taste the seasonal fruits as you enjoy a traditional South Vietnamese musical performance.
After visiting traditional houses, enjoy a mesmerizing rowing boat trip through small canals.
Take a motorboat cruise along more natural creeks and peaceful villages.
Satisfy your sweet tooth by stopping by a coconut candy mill to indulge in this tasty snack while seeing how it is made.
Enjoy a Vietnamese lunch in a restaurant located in a local home.
Ride your bike (about 0.5 hour) around the village shaded by coconut trees as you pass immense green rice fields and admire the beautiful scenery. We will return My Tho by boat and ride the bus back to Ho Chi Minh City and visit Vinh Trang Pagoda.

Stay overnight in Ho Chi Minh
SAI GON DEPARTURE - PHNOM PENH ARRIVAL (Meal: B)
7:30am Pick up at hotel and transfer to the bus for a bus trip to Phnompenh.
Arrival in Phnom Penh. You will be welcomed and picked up and transferred to hotel. Leisure time.
Overnight in Phnom Penh.

PHNOM PENH TOUR (Meal: B, L)
Breakfast at hotel.
8:00 am our friendly tour guide will take you for City Tour to Royal Palace, the incredible solid silver-floored Silver Pagoda is the pagoda which in the Royal Palace campus, where have thousands of silver tiles on the floor of pagoda and have the biggest golden Buddha statue. Silver Pagoda is in the Royal Palace Compound made of 5000 silver tiles. Raung Damrei Museum. Visit Wat Phnom pagoda a 15th century stupa. Wat Phnom, a small hill crowned by an active wat (pagoda) marks the legend of Phnom Penh City. Next, proceed to shopping at Central Market. Lunch will be served at local restaurant.

PM: Our last destination would be at Toul Sleng which was once a Tuol Svay Prey High School is now a frightening reminder of the horrors of Pol Pot regime. The school was used as a torture chamber and it was believed that 16,000 people died there. Visit Choeung Ek - Killing Field: now become the peaceful stretch of countryside where over 10,000 people were executed. The remains of some of them are stored in a memorial to remind people of the atrocities the Khmer Rouge inflicted on other Khmers. Then stop at the trendy market is Russian Market, where you can buy DVD, clothes, souvenir etc… Then visit Independent Monument: the Naga (total 100) or snake motif is one, which can be seen in historic, cultural and modern-day.
Overnight in Phnom Penh

PHNOM PENH DEPARTURE - SIEM RIEP BY BUS (Meal: B)
Breakfast at hotel.
Morning transfer without guide to bus station for departure to Siem Reap, agate way of Angkor Wat temple. Approximately, you will need to spend around 06 hours.
Upon arrival in Siem Reap, pick up from bus station without guide to hotel. Free at own leisure.
Overnight in Siem Reap.

ANGKOR WAT TOUR (Meal: B, L)
Breakfast at hotel.
AM: Enter the South Gate of Angkor Thom Temple and marvel the wonders of the eerie Bayon, Baphoun, Phimeanakas, the Elephants terrace and terrace of Leper King. Before lunch, visit Ta Prohm Temple unlike most of the other Angkor temples, the photogenic and atmospheric combination of trees growing out of the ruins and the jungle surroundings have made it one of Angkor's most popular temples with visitors. Have lunch at local restaurant

PM: Visit the famous Angkor Wat, built for king Suryavarman II in the early 12th century as his state temple and capital city. The largest and best-preserved temple at the site, it is the only one to have remained a significant religious centre—first Hindu, then Buddhist—since its foundation. View the glorious sunset at Phnom Bakheng Hill. Dinner on guest's account.
Overnight in Siem Reap.

SIEM REAP DEPARTURE (Meal: B)
Pick-up Details / Transfers
Airport transfer service will be available 24 hours on day 1 and day 14, please arrange your flight according to your convenience.
Package Includes
Domestic Airfare Included
Free Airport Pick up & Drop off
Train tickets Ha Noi – Lao cai – Ha Noi
Air ticket Hanoi – Saigon
Public bus SGN- Phnom Penh, Phnom Penh – Siemreap
10-night 3-star Hotel & 1 night on cruise in Ha Long Bay, 2 night on sleeper train
Meals included in itineraries
Daily group tour: Ha Noi city, Mekong Delta, Cu Chi tunnels
Private tour in Phnom Penh, Siem Reap
Free 1 Date SIM Card in Vietnam
Package Excludes
International flights
Personal entertainment expenses
Personal costs: telephone fee, laundry
Meals out of tour
Cancellation made within:
Cancellation made more than 27 days prior to departure, Refund 100% of purchase amount
Cancellation made within 18 days to 26 days prior to departure, Refund 75% of purchase amount
Cancellation made within 9 days to 17 days prior to departure, Refund 50% of purchase amount
Cancellation made within 8 days prior to departure, No refund
This tour/activity is overseen by a select local operator in the region. Upon booking your tour or activity and after receiving confirmation, you will be issued an e-ticket detailing the local operator's name and contact information. If you require assistance finding a specific tour, please contact us for more information.
If any of the attractions are closed due to Covid-19, the guide will arrange the itinerary based on the actual situation on the tour date. Please understand. Thanks.
Pricing Info
Your reservation is always subject to confirmation by email, normally within one to two business days.
*The final tour rates already include possible booking fee, handling fee, and exchange rate loss.
Reservation Info
1.Immediately after submitting your reservation you will receive a Receipt of Reservation via email.

2. Within one to two business days of submitting your reservation you will receive a confirmation email from us. If you need to book an airline ticket, we recommend that you do so after you receive a confirmation of your tour reservation from us.

3. An E-Ticket will be sent to you via email as soon as details of your reservation are confirmed or your supporting information is received by us. We will provide you with all detailed information about your tour on the E-Ticket. Contact information for local tour provider will be included on E-Ticket for your convenience or re-confirmation purpose if re-confirmation is required.

4. Simply print your E-Ticket and present it with your valid photo ID on the day of your activity to your tour guide. Please remember E-Ticket is your proof of purchase.
Terms and Conditions
- Your purchase does not guarantee confirmation. Your purchase will initiate a reservation process. We will confirm with you via email within one to two business days.

- Prices may vary due to availability. We reserve the right to make price adjustment without prior notice.

- Local tour provider reserves the right to make modifications to tour arrangements including order of tour activities, hotel and its location if deemed necessary.
SATISFACTION
98%
8 Customer Reviews
Dilek Yavas

02/25/2019

Verified Purchase

Amazing tour, very good itinerary, average hotels, friendly Vietnamese tour guides and drivers...

Si Lam

11/10/2017

Verified Purchase

Great

It was so great to discover the two beautiful countries with this company

Tina

Great Trip

It was a great trip for us to explore Vietnam and Cambodia at the most affordable price. Thank you

Nicky

Great

The tour was wonderful. We visited some amazing places and with the help of our superb tour leader Charles we had the trip of a lifetime

Mary

Great

Although it was a budget tour the accomodation was surprisingly nice and centrally located. Our tour guide Gloria was awesome and so knowledgable. We saw so much in the little time we had and it was a great experience
Edit Photo Title & Description
Loading……
We found 0 results matching your search
Question:
Tour to Vietnam and Cambodia The end city of this 14 day tour. Is the international airport close
Answer:
Dear Val,

Thank your for your interest in Tours4fun.

At the end of the 14 day tour after breakfast you will be transferred to...
Question:
Hello, We would like to take 14 Days Vietnam & Cambodia tour as 6 adults in February 2019. We haven't booked tour or flight yet but don't want to miss the sale. Do you have any offer for 6 person and proposal dates in Feb2019 ...? Any 14 day is suitable for us. Thanks in advance.
Answer:
Dear Sadun,

Thank you for your interest in Tours4Fun.

For this tour on February 2019, The whole month is available for booking....
Answer:
Dear Yatender,

Thank you for your interest in Tours4Fun

Please let us know how can we assist you.

To place your order for a...
Questions previously answered may have different answers due to many reasons: season (date and year of travel), rates, availability, etc. Please check the Rewards4Fun Program FAQ for more information.
Cant find your answer? Ask us your question and we will respond within the next 24 hours.
Ask Us
Why Book with Tours4fun?
Best Price Guaranteed
Hand-picked Tours & Activities
24/7 Customer Support
Questions? 1-866-933-7368