5-Day Western Europe Tour from Paris: Reims | Cologne | Amsterdam | Brussels
Product Code: 56-24543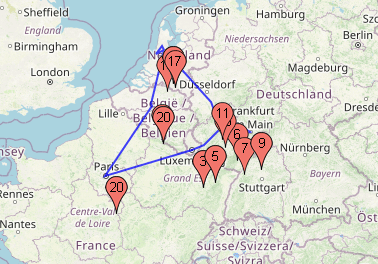 Highlights
• Enjoy seeing the historic attractions of provincial capital Reims and its famous Cathedral
• Visit historical towns and cities in Germany like Bonn, Cologne and Trier
• Take a leisurely trip through the Dutch countryside
• Visit the main sights of the capital of the Netherlands: Amsterdam
• Make a stop at the Atomium monument, an iconic landmark of Brussels
Experience:

Cultural, Historical, Nature, UNESCO

Learn about local culture with in-depth tours and activities; Encounter rich historical landmarks with expert guides; Get in touch with Mother Earth; Visit locations designated as World Heritage Sites by the United Nations
Tour Type:

Escorted

Tour director/guided escort is available from the beginning to the end of the vacation
Group Type:

Standard group

Tour with fellow travelers from all over the world
Activity Level:

Moderate

Designed for travelers in good health who are comfortable with light walking or hiking
Quality:

Budget

The most affordable tour service and/or accommodation with fast-paced itineraries. Eg.Budget hotels, certificated guide, about 10 year safe driving experience driver. Price is about $80.00-$150.00 per day per person.
Accessibility:

Not accessible

Tour does not have wheelchair accessible vehicles/attractions or allow service dogs
Paris - Reims - Luxembourg
Hotel: Melia Luxembourg / Doubletree by Hilton Hotel - Luxembourg or similar
Our tour leaves from Paris for a delightful scenic journey through the rolling countryside of the Champagne region, famous the world over for the sparkling white wine produced here. Enjoy seeing the historic attractions of provincial capital Reims, including the city's cathedral – a key national heritage site, where coronations of French kings took place from the 11th century onwards.

History and tradition are equally evident in your next location: Luxembourg, the world's only remaining Grand Duchy. After arriving in refined Luxembourg City, you'll be introduced on foot to the main places of interest, including the Place de Constitution and Pont Adolphe, before having time for further exploration on your own.
Luxembourg - Trier - Koblenz - Rudesheim - Frankfurt
Hotel: Sheraton Congress Hotel Frankfurt / Sheraton Offenbach Hotel or similar
Today we leave Luxembourg behind and head across another European border into Germany. The first stop is historic Trier, Germany's oldest city and the birthplace of Karl Marx. You'll have the chance to see from the outside the house where the influential philosopher was born, which now functions as the Karl Marx Haus museum.

Your walking tour then takes you into the centre of Trier; here you can look around the city's impressive cathedral, where the celebrated Holy Robe – said to be the tunic of Christ – is preserved and occasionally displayed. Trier is also known as 'The Second Rome' (Constantine served as an administrator here for 10 years), and significant legacies of the once-great empire remain today. The highlight is undoubtedly Porta Nigra, the best-preserved Roman city gate north of the Alps, which you'll get to see and photograph.

After an exciting morning in Trier, you'll drive on to Koblenz, famous as the location of the confluence of the Rhine and Mosel rivers. Here you have the option of indulging in a relaxing lunch alongside the water, and then afterwards you can also choose to add on a scenic Rhine boat cruise for some memorable city vistas. Back on dry land you'll drive through the wine-making town of Rüdesheim. Then it's on to Frankfurt am Main, where you'll discover the delights of Römerberg, a charming plaza with a distinctive medieval town hall as its centrepiece
Visiting Attractions
Admission Fees
| Activity | Price | Additional Information |
| --- | --- | --- |
| Pork Knuckle Menu with Beer | EUR 25.00/Person | |
| Rhine River Cruise | EUR 15.00/person | |
All mandatory fees must be paid in cash to the tour guide and tickets cannot be pre-purchased separatedly.
Any optional activities you wish to join must be paid to your tour guide in cash.
Frankfurt - Bonn - Cologne - Amsterdam
Hotel: Hampton by Hilton Hotel / Amsterdam Schiphol or similar
The morning begins with a leisurely drive north-west from Frankfurt to Bonn, the capital of the former West Germany until reunification. The national government is now run from Berlin, but Bonn retains a rich history that is well worth exploring. Discover the city's secrets on an orientation stroll through its streets, walking past highlights such as the Rococo-fronted town hall and Ludwig Van Beethoven Haus, a museum celebrating the life of the much-loved composer.

Then it's on to Cologne, where you'll head inside the city's glorious Gothic Cathedral, a UNESCO World Heritage Site. The rest of the afternoon is yours to explore Cologne further, to do a spot of local shopping or to simply relax with a suitably refreshing German brew.

After lunch the day is rounded off with a drive to the Netherlands.
Amsterdam - Zaanse Schans - Amsterdam
Hotel: Hampton by Hilton Hotel / Amsterdam Schiphol or similar
A day of delights begins with a leisurely trip through the Dutch countryside, where you'll get to sample at close quarters some of the things that the Netherlands is traditionally famous for: clogs, cheese and windmills. Call in at the hugely popular model town of Zaanse Schans. Next, you'll head from the quiet countryside to the cosmopolitan city as your journey takes you back to Amsterdam.

After visiting a well-known diamond factory, where you'll see the unique cutting techniques that have been practised here since the 16th century, you can take an optional hour-long pre-dinner canal cruise, which is a great way to discover more about this unique European city.

After disembarking you'll walk to one of the city's grandest areas, Dam Square, where the Royal Palace is located and the Queen's birthday celebrations take place. You'll have photo opportunities here, free time for shopping or further sightseeing, and then round the day off with dinner. (B)


Tips:

From mid-March to mid-May the tour will also visit Keukenhof Garden, a 32-hectare seasonal exhibition of beautifully coloured and scented displays of spring flowers - most notably millions of tulips.
Visiting Attractions
Admission Fees
Activity
Price
Additional Information
Amsterdam Canal Cruise
€15.00/Adult
€10.00/Child (under 14 years old)
Free for children under 4 years old
Keukenhof Gardens
€18.00/Person
From 2020: €19.00/person,4-17 years old € 10 / person, free for children under 3 years old
Available during March - May
All mandatory fees must be paid in cash to the tour guide and tickets cannot be pre-purchased separatedly.
Any optional activities you wish to join must be paid to your tour guide in cash.
Amsterdam - Brussels - Paris
After leaving Amsterdam in the morning you'll head south across the border into Brussels, the Belgian capital and political centre of the European Union.

On the way, the tour stops to see the distinctive Atomium monument, a cell-shaped structure of stainless steel spheres and tubes built for the 1958 World's Fair. In the centre of Brussels itself an orientation tour will call in at the exquisite Grand Place, as well as seeing the famous playful Manneken Pis statue.

After some free time, during which you can try some gourmandise Belgian delights. Then from Brussels it's south again across the French border and on to the bright lights of Paris.

Want to see more tours start from Paris? Check out all our Best Paris Tours with different destinations and duration, you will find the perfect one!
Search for your nearest pickup point
Package Includes
4-night hotel accommodations
4 breakfasts (coffee or tea, juice and bread)
Ground transportation in air-conditioned motorcoach
Professional tour guide
Package Excludes
Mandatory Service Fee - min. EUR 7.00 per day, per person, payable to the guide
Airfare
Airport pick-up, drop-off
All personal expenses and additional hotel services
Lunch and dinner
Optional tours (prices and availability subject to change):
There might be some adjustment on tour per the actual situation, due to the COVID-19, please understand
If a visa support letter has already been submitted, an additional charge of 85 Euros will be assessed for any cancellation unless the customer can provide a copy of the embassy's rejection letter.
Please Note:
1. Guests are not allowed to use a CITY PASS and admission ticket purchased by themselves to join the sightseeing attractions included in this tour.
2. Guests who do use a CITY PASS or admission ticket purchased by themselves, will not be offered the transportation service for that day, and will possible need to pay a penalty fee. Please consult your tour guide for details.
This tour/activity is overseen by a select local operator in the region. Upon booking your tour or activity and after receiving confirmation, you will be issued an e-ticket detailing the local operator's name and contact information. If you require assistance finding a specific tour, please contact us for more information.
If any of the attractions are closed due to Covid-19, the guide will arrange the itinerary based on the actual situation on the tour date. Please understand. Thanks.
Pricing Info
Your reservation is always subject to confirmation by email, normally within one to two business days.
* Adult: 12 and older
* Child: 2-11 years of age
* Children younger than 2 years of age travel for free, provided they do not occupy a seat on the bus, or a bed in the room.
* Price for Single Occupancy applies when one person stays in one standard hotel room.
* Price for Double Occupancy applies when two people stay in one standard hotel room.
* The bed is about 110cm-120cm *200cm. To be more comfortable, if you are travelling with a kids, suggest to book 1 more room or check with us if share room available.
* Tour prices are based on Euros (EUR) and converted into US dollars (USD). Constant fluctuations in the exchange rate cause prices to change on a regular basis. You will be charged the price based on the applicable exchange rate at the time of payment. All transactions are final. We do not offer discounts or compensation to those citing lower prices at a later date. Bookings will be subject to penalties when modified or cancelled.
*The final tour rates already include possible booking fee, handling fee, and exchange rate loss.
Reservation Info
1.Immediately after submitting your reservation you will receive a Receipt of Reservation via email.

2. Within one to two business days of submitting your reservation you will receive a confirmation email from us. If you need to book an airline ticket, we recommend that you do so after you receive a confirmation of your tour reservation from us.

3. An E-Ticket will be sent to you via email as soon as details of your reservation are confirmed or your supporting information is received by us. We will provide you with all detailed information about your tour on the E-Ticket. Contact information for local tour provider will be included on E-Ticket for your convenience or re-confirmation purpose if re-confirmation is required.

4. Simply print your E-Ticket and present it with your valid photo ID on the day of your activity to your tour guide. Please remember E-Ticket is your proof of purchase.
Terms and Conditions
- Your purchase does not guarantee confirmation. Your purchase will initiate a reservation process. We will confirm with you via email within one to two business days.

- Prices may vary due to availability. We reserve the right to make price adjustment without prior notice.

- Local tour provider reserves the right to make modifications to tour arrangements including order of tour activities, hotel and its location if deemed necessary.
SATISFACTION
92%
53 Customer Reviews
Anonymous

11/10/2019

Verified Purchase

Good tour, nice hotel accommodation and great tour guide. Keep it up!!! looking forward to have another tour in the future.

Greenvista

Best Tour Director!

Jane was the best tour guide! She was able to manage a big group very well. She is extremely knowledgeable about every where we went. I learned so much about back stories that it made the trip even more enjoyable. Everyone should be so luck...y to have her as a guide. Read full review

Shafii aris

11/08/2019

Verified Purchase

HOTEL First of all, I felt cheated! We have been promised all these amazing hotels throughout the whole trip but we stayed at none of them. You may argue that there's a disclaimer saying that we might be staying at a different hotel that i...s similar to the ones you have promised but I am sure you can agree with me there is a huge difference between a 5 star hotel to a 4 star hotel to a 3 star hotel and so on. 1st day in Luxembourg - We stayed in Ibis Hotel (3 stars). We were promised either Melia Luxembourg (4 stars) or Doubletree by Hilton Hotel (4 stars). You can imagine how disappointed we were when we learned almost as we arrived at the hotel where we will be staying. After such a long journey, my family were really looking forward to spend the night in one of the two hotels that have been promised. 2nd day in Frankfurt - We stayed at Mercure Hotel (4 stars). We were promised either Sheraton Congress Hotel Frankfurt (4 stars) or Sheraton Offenbach Hotel (4 stars). The hotel that we stayed was far away from the city. We arrived at Frankfrut at around 5pm and were brought straight to the Romerberg and were given like maybe less than 30 mins time to spend there before we were back in the bus to head to the hotel. We werent given the chance at all to explore Frankfrut because on the next early morning, we were already back on the road to our next destination. If my friend back at home asks me if I have been to Frankfrut? Yes I have. Did I spent the night there? Check! But did I see Frankfrut in all its glory? Absolutely not. 3rd and 4th day in Amsterdam - We stayed at Art Hotel Spaander (3 stars) in Volendam instead of in either Hampton by Hilton Hotel (4 stars) or Amsterdam Schiphol. We had a bad experience at this particular hotel during both times we had breakfast there. The hotel was not ready at all to serve their guests (there were other tour groups staying in the same hotel). The service was extremely slow. They kept running out of food and they only opened a small section of the huge restaurant for the guests to dine. Not only that, there was only ONE buffet table for all the guests to take their breakfast from; that we had to form a really long queue to get our foods. And the food choices were very very limited for a 3-star hotel. It was extremely disappointing! And why was the hotel so far away from the city. We had such little time to explore the city despite being in Amsterdam for 2 days. It would have been better if we get to stay somewhere in the city so we can explore at our own free time. BUS RIDE The bus ride was comfortable. However, it was different from my previous tour experiences with Tour4Fun. In my previous experiences, the bus will be constantly cleaned when we stopped over at places. But this time around, the bus wasn't cleaned often enough. When we first board the bus in Place d'italie in Paris, there were used mineral bottles and some stuffs left by the previous tour group in the overhead compartment and still there until the end of our tour. Another thing that I wasnt happy was the fact that we had to unnecessarily endure hours in the bus and on the road just so we could pick up other passengers. For example, we were brought TWICE to Schiphol airport in Amsterdam to pick up new passengers. We had to go through the insane traffic jams to get there when we could spend time to visit other places. The 1st day in Amsterdam, we were rushed to be on the bus at 8am only to be brought to the airport in which we arrived at around 10am and we only got to finally visit the first place in that day's itinerary at almost noon. It was such a waste of everyone's time. Read full review

Leonardo Canter

10/28/2019

Verified Purchase

A tour we enjoyed

Although it was a not a complete line we made but a combination of two of them (red and blue line), we really love our time in Reims and Cologne. Amsterdam unfortunately was raining and I will recommend to give one more day or half a day to... Amsterdam to do more there as there are too many things to see there. We went into the tour with 3 different guides and with all of them we were ok. Particularly want to mention Mano as he was the one coming more time with us and want to highlight his profesionalism. Read full review

Jairo Leonardo Canter Rios

09/28/2019

Verified Purchase

We enjoyed our tour. We had also the chance to be escorted by 3 different tour guides: Mano, Mickey and Daniel. Mano and Daniel were more professional and provide us more tips about the places we were visiting and also better instructions a...nd precautions. All hotels we stayed in were very good and also the optional activities we took with the tour. This was our 4th tour with Tours4fun and we really like these tours. In this tour I want to request also to have more time in Amsterdam, this is a city for which the time arrange in the tour is very little in comparison with some other cities. Read full review
Edit Photo Title & Description
Loading……
We found 0 results matching your search
Questions previously answered may have different answers due to many reasons: season (date and year of travel), rates, availability, etc. Please check the Rewards4Fun Program FAQ for more information.
Cant find your answer? Ask us your question and we will respond within the next 24 hours.
Ask Us
4
Why Book with Tours4fun?
Best Price Guaranteed
Hand-picked Tours & Activities
24/7 Customer Support
Questions? 1-866-933-7368