4-Day Winter Ski Package Tour from Calgary
Product Code: 4665-615393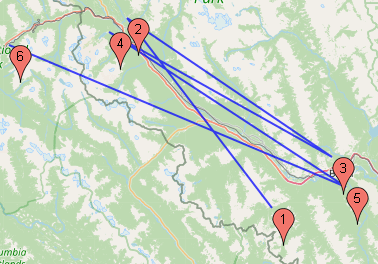 Highlights
• Enjoy a ski trip in one of the following mountains (Banff Sunshine/Mt. Norquay /Lake Louise Ski Resort)
• Visit Banff
• Join an optional tour in Banff or Lake Louise
Tour Type
Adventure/Activities
Experience:

Adventure, Nature

Explore the world with an active and adrenaline pumping tour; Get in touch with Mother Earth
Tour Type:

Escorted

Tour director/guided escort is available from the beginning to the end of the vacation
Group Type:

Standard group

Tour with fellow travelers from all over the world
Activity Level:

Moderate

Designed for travelers in good health who are comfortable with light walking or hiking
Quality:

Value

Travel with professional guides, enjoy more time at attractions and/or stay at comfortable accommodations.
Hometown - Calgary - Banff
Hotel: Banff Aspen Lodge or similar
After arriving in Calgary, you will meet and be greeted by our guide, who will assist you to board the shuttle to Banff Town.
Skiing Trip
Hotel: Banff Aspen Lodge or similar
Today, you will take the shuttle from the hotel to one of the mountains (Banff Sunshine/ Mt. Norquay/ Lake Louise Ski Resort) to enjoy your ski journey.
Free Day
Hotel: Banff Aspen Lodge or similar
Today, you could choose to join an optional tour in Banff or to Lake Louise (subject to availability) or add a 1- day ski pass and take the shuttle from the hotel to one of the mountains (Banff Sunshine/Mt. Norquay/Lake Louise Ski Resort) to enjoy your ski journey.

Option 1: 1-Day Banff Area & Canyon Tour (Only departs on Wed and Sat only)

Option 2: 1-Day Lake Louise & Yoho N.P & Moraine Lake Tour (Only depart on Thur and Sun)

Option 3: 1-Day Snow Activity Winter Fun OR 1-Day Lake (Only departs on Mon and Fri)
Admission Fees
| Activity | Price | Additional Information |
| --- | --- | --- |
| Banff Gondola | CAD$55.00/Adult; CAD$27.50/Child(6-15) | Advance booking is required. Prices are subject to change without notice. Price is subject to 5% GST. |
| Snow Tubing | CAD$35.00/Adult; CAD$30.00/Youth(13-17); CAD$20.00/Child(6-12) | Advance booking is required. Prices are subject to change without notice. Price is subject to 5% GST. |
| Sightseeing Gondola | CAD$49.00/Adult; CAD$24.00/Youth(13-17); CAD$24.00/Child(6-12) | Advance booking is required. Prices are subject to change without notice. Price is subject to 5% GST. |
All mandatory fees must be paid in cash to the tour guide and tickets cannot be pre-purchased separatedly.
Any optional activities you wish to join must be paid to your tour guide in cash.
Banff - Hometown
Pick-up Details / Transfers
Arrivals

Calgary International Airport Complimentary pick-up location(YYC): Arrival Hall (1st Floor) Exit 7 near the Information Centre. Airport pick up will be arranged every 2 hours from 10:00 am to 6:00 pm. If guests arrive Calgary beyond our airport pickup time, you may take the hotel shuttle. However, some hotel airport shuttle service is not 24 hours and if the hotel does not offer the airport shuttle, you may have to pay for your transfers. If flight delays, please contact us as soon as possible to re-arrange the pickup schedule.



Please provide your flight information at least 7 days prior to the departure date. Otherwise we will be unable to arrange the airport pickup for you.
Package Includes
Ground transportation
3-Night Hotel Accommodations
Professional bilingual tour guide
One-day ski pass with equipment rental
Three Daily breakfast
Goods and service tax 5%
Package Excludes
Service fees for tour guide and driver: CAD$10.00/person/day
Airfares or related transportation between your home and departure locations
All personal expenses, additional hotel services and meals, unless otherwise stated
Entrance fees and optional tours (rates vary from season to season; only the price at the ticket booth / box office is final)
Aside from admission fees, optional tour fees and service fees mentioned above, other fees and taxes should be paid in CAD currency by. If you choose to pay in USD currency, you should pay the price difference caused by the currency exchange rate.
Upgrade fees do not include breakfast (need to pay extra).
Safety Measures:
Based on Alberta Government new temporary measurestowards COVID-19, Tour operator will be implementing Alberta's Restrictions Exemption Program that requires proof of
vaccination OR negative rapid test result to be on board to the tour bus (for customers ages 12 and over), starting from September 20th, 2021.
Below please find the detail of the documentation requirement (either one; both digital and hard copy are applicable):
- Proof of vaccination
Single dose accepted between September 20 and October 25 if received 2 weeks before time of service
Double doses required after October 25
- Documentation of a medical exemption
- Proof of a privately-paid negative PCR or rapid test within 72 hours of service. Tests from AHS or Alberta Precision Laboratories not allowed
If you are not able to provide any one of the documents mentioned above:
- You will be denied boarding to the tour bus
- Please inform us 72 hours prior to departure. The purchased tour will be either
Transferred to the store credit valid for two years from the original travel date, or
Free rescheduled once, or
Name changed once
Cancellation Policy:
* 34 or more days prior to departure date - penalty fee: 10% of the total fare + GST per person
* There will be no refund for any cancellations made within 33 days prior to the departure date, not any partial refund on any unused services.
* Non-refundable for any changes or cancellation for hotel upgrade.
For own expense items, we suggest you make reservations at the same time with tours to guarantee your space.
Please be ready and show up at meeting location 5-10 minutes prior to the meeting time as the tour will start on time. If you miss the bus, please go to next pick up location to meet the group. Should there be any concerns, please contact us.
Tours4Fun has put forth all necessary efforts in order to ensure that, at all times of publication, all descriptions in the present brochure are exact. For reasons out of the control of Tours4fun, modifications or cancellations may occur during the tour, where customers should not object.
Tours4Fun shall not be liable for failure in the performance of any of its obligations for any loss or damage resulting from any delay, cancellations, loss of personal belongings, illness, bodily injury, accident, death, deterioration of services,inconvenience, loss of enjoyment, disappointment or frustration, either mental or physical, attributable to a fault, negligent act or omission by a provider or any employee thereof.
Tours4Fun suggest you to purchase travel insurance as a measure of added protection.
One piece of checked luggage & one piece of carry-on luggage, with applicable size restrictions, are allowed for each person.
Should there be any itinerary details/price discrepancies from our website, the company's invoice will be considered as the final confirmation.

Depending on your arrival time, your hotel room may not be available until the afternoon. Most hotels allow check-in between 1:00pm-3:00pm, however some charge a fee for early check-in. Please check at the hotel desk to see if you may store your luggage at the hotel if you wish to explore the city on your own before check-in.
This tour/activity is overseen by a select local operator in the region. Upon booking your tour or activity and after receiving confirmation, you will be issued an e-ticket detailing the local operator's name and contact information. If you require assistance finding a specific tour, please contact us for more information.
If any of the attractions are closed due to Covid-19, the guide will arrange the itinerary based on the actual situation on the tour date. Please understand. Thanks.
Pricing Info
Your reservation is always subject to confirmation by email, normally within one to two business days.
* Price for Single Occupancy applies when one person stays in one standard hotel room.
* Price for Double/Triple/Quadruple Occupancy applies when two/three/four people stay in one standard hotel room.
* Triple/Quadruple price does not guarantee a third or fourth bed in the room but it can be requested at the time of check-in.
* Children prices applies when a 0 to 15-year-old child stays in one standard room as a third or fourth person.
* Maximum room capacity: 4 people including adult and child/infant
*The final tour rates already include possible booking fee, handling fee, and exchange rate loss.
Reservation Info
1.Immediately after submitting your reservation you will receive a Receipt of Reservation via email.

2. Within one to two business days of submitting your reservation you will receive a confirmation email from us. If you need to book an airline ticket, we recommend that you do so after you receive a confirmation of your tour reservation from us.

3. An E-Ticket will be sent to you via email as soon as details of your reservation are confirmed or your supporting information is received by us. We will provide you with all detailed information about your tour on the E-Ticket. Contact information for local tour provider will be included on E-Ticket for your convenience or re-confirmation purpose if re-confirmation is required.

4. Simply print your E-Ticket and present it with your valid photo ID on the day of your activity to your tour guide. Please remember E-Ticket is your proof of purchase.
Terms and Conditions
- Your purchase does not guarantee confirmation. Your purchase will initiate a reservation process. We will confirm with you via email within one to two business days.

- Prices may vary due to availability. We reserve the right to make price adjustment without prior notice.

- Local tour provider reserves the right to make modifications to tour arrangements including order of tour activities, hotel and its location if deemed necessary.
Edit Photo Title & Description
Loading……
We found 0 results matching your search
Questions previously answered may have different answers due to many reasons: season (date and year of travel), rates, availability, etc. Please check the Rewards4Fun Program FAQ for more information.
Cant find your answer? Ask us your question and we will respond within the next 24 hours.
Ask Us
Why Book with Tours4fun?
Best Price Guaranteed
Hand-picked Tours & Activities
24/7 Customer Support
Questions? 1-866-933-7368